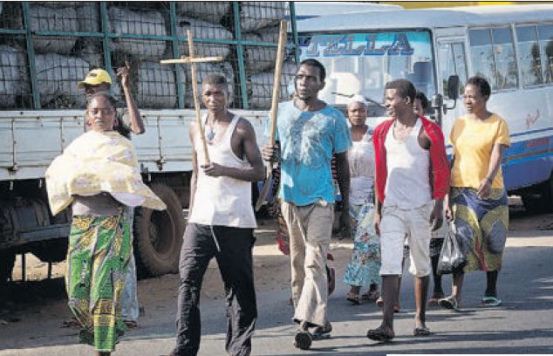 Kenyans trapped in Burundi and those escaping from chaotic scenes occasioned by the failed coup attempt narrated bitter ordeals they encountered in search of safe escape routes.
Dozens of Kenyan families trapped in Burundi sent a 'Save Our Souls' cry seeking evacuation from the chaos that has gripped the country.
Majority of those we spoke to stayed in touch after The Standard Group launched a campaign dubbed #SaveKenyansinBurundi and #OkoaWakenyaBurundi on KTN Leo asking them to narrate their experiences and locations.
The hash tags were published on Standard Digital platform and prompted many to respond including families in Kenya desperately seeking to connect with their loved ones in the troubled country.
By the time of going to press, a number of Kenyans were escaping to neighbouring countries by road while many without resources were staying indoors and praying for calm to return.
Aerial evacuation was grounded after the Bujumbura International Airport was shut down and flights over the airspace of the troubled country of 11 million people was profiled as dangerous to travelers and declared a no go-zone.
Some of those trapped took advantage of relative calm witnessed on Friday morning to escape by road to neighbouring Rwanda as some crossed over to Tanzania in hired private vehicles, buses and taxis.
Kenyans who work in Burundi and those who flew to execute business deals were similarly caught in danger; the road was the only option available to escape to safety.
A distraught Francis Rukungu, the Country Manager of Kobil SA Burundi said: "Please include me in the list of those seeking evacuation from Burundi. We are a family of four; wife Ann and children Lewis (8) and David aged two.
"We have crossed into Rwanda and heading to Kigali amid challenges because we did not have vehicle registration details and security and customs requirements were a bit of a problem. I am with my family and we hope we will cross to Uganda and finally back home. Pray for us and thanks for your support," Rukungu told The Standard on Saturday on telephone.
Distress messages were many. One read: "I'm in Burundi and there are a number of us Kenyans stranded here. Please put pressure on the government to coordinate an evacuation mission as soon as possible. The deadlock for the coup is taking too long and everyone is worried."
Joseph Mwele, a Kenyan living and working in Burundi, said the situation is still delicate despite confirmation that the president is back in the country but his whereabouts remain unknown.
"Information circulating is that the soldiers loyal to the president are in charge. There are no more demonstrations, the streets are empty despite calls by Human Rights groups, urging Burundians to proceed on with the street protests," he said.
Mwele continued, "Businesses are at standstill. Private radio stations have been banned from broadcasting, only the state radio is on. Nevertheless the radio station is also just playing music; no information is forthcoming of the current situation." He affirmed that presently people are staying indoors and monitoring the situation as things unfold. "Since nobody knows the whereabouts of the President is also a concern. His appearance will re-assure the citizenry that things are ok," he said.
Mwele said he managed to flee the country just before the attempted coup on one of the last flights from Bunjumbura before the airport was closed. A businessman Richard Gicho who was holed up in a Bujumbura hotel for days managed to escape on taxi after visiting the Kenyan Embassy and was directed on safe routes to follow.
"I know of a gentleman who made his way using rare public transport to Kigali. I could not fly back because there no more flights in this country perhaps the airport may reopen on Tuesday. But thank God for the great job you guys are doing."
Two Kenyans Dan Otwabe and Simon Muli who work for a duty free shop similarly expressed their fears and shared their locations as they monitored the situation.
"We pray for our lives. We cannot escape because we are not sure the roads are out there. We are monitoring the situation and we believe God will spare us this tragedy," Otwabe said.
The terrified families were taken aback when momentarily there was telephone and internet service disruption, as media outlets switched off throwing them into darkness.
So moving were the personal pleas from families in Kenya whose members were holed up in the troubled city of Bujumbura.
Said Eric whose sister is trapped in Burundi, "She says the situation is chaotic she has not been out for the last three weeks....Kindly try help her here are her contacts...
Joel Serem who works with an oil oil refinery company said he was holed up with his wife and two children and were monitoring the situation in an email communication.
By the time going of going to press a number of Kenyans were fleeing to neighbouring countries.
Related Topics