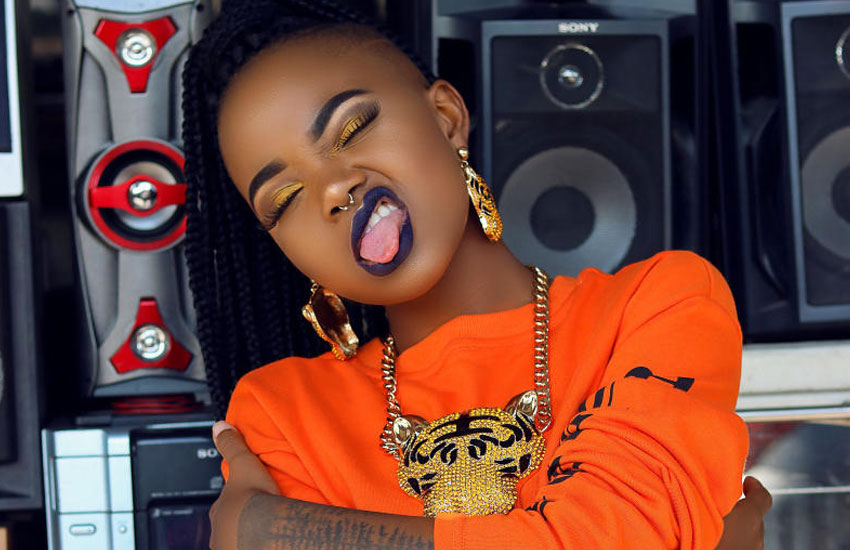 You might have noticed her from prominently featuring in Navy Kenzo'sFeel Good colourful video in 2016, with her signature tapered cut and long braids, a look that suits her portrayal and music personality.
The stunning 24-year-old rapper Rosa Ree, born Rosary Robert, is much more than meets the eye. Though born in Moshi, Tanzania, Rosa's relationship with Kenya goes way back to when she schooled here from primary through high school.
The sparse rap industry in Tanzania may be male-dominated but self-proclaimed rap goddess has worked to prove that a femcee can do an equally good job.
"I see myself as a go-getter, which is why I picked the moniker Rap Goddess. To me, a goddess is a woman with a goal and direction, smart, focused all which I strive to embody as an artist," she says.
At the start of her rap career, she faced many critics, some of whom included peers in the industry who had no belief that she could ace the mission of being a distinguished rapper, especially in Tanzania. These are issues that she has addressed in her songs like Champion (featuring Ruby) and One Time without mincing her words.
"Gender discrimination has been my biggest challenge in the music industry and specifically the genre I am doing. Many people assume that women should not pursue rap or have the ambition to thrive in any male-dominated sector. It's as if you should either sing or go home and cook, maybe raise children," she says. 
Which is ironic because the biggest buzz in Kenya has been around her relationship with Timmy T-Dat.
If you have paid attention to their collaboration in Kipopo and Asante Baba, then you definitely know the undeniable chemistry between these two. It is in the pose of the countless pictures online, being inseparable when in the same location, the teasing and being cryptic in their social media captions.
There is no denying that the two look good together and neither of them can keep a straight face when asked about the nature of their relationship. The two have since denied dating, insisting that theirs is a respectful friendship and a shared love for music.
In a separate interview, T-Dat said: "I am in a very private relationship and I want it to remain low-key. My girlfriend does not have a problem with my friendship with Rosa or the gimmicks in the videos. She is very supportive of my work too."
To others in Kenya, the talented singer was first introduced through Kenyan hitmaker Khaligraph in the One-Time remix.
Her consistency has been worthy of the recognition beyond the Tanzanian borders. The Up in the Air rapper has mastered the art of effective intentional collaboration, not only for the purposes of creating good music but to also tap into a solid fan-base that can accommodate her. 
The petite rapper has caught the attention of record labels who have tried signing her. In a span of three years, she has been with three different labels but ended up going solo.
"I like being an independent artist because of the power I have over making my own decisions. Experiencing things first-hand and creating relationships with people as myself and not behind a label has made me learn valuable lessons I could not have learnt if I was being managed. Learning never stops," she says.
Her hard work has seen her selected brand ambassador for brands like Belaire and Castle Lite among others.
This year alone, Rosa Ree has been nominated in three categories (Best Female in Eastern Africa, Revelation of African Continent and Best Artist in African Reggae, Ragga or Dancehall) in the upcoming sixth edition of the Afrima Awards taking place next month.
"You cannot depend on other people to do what you should do. You are the one with the authority over your own destiny and success, if you do not go for it, no one else can do it for you," she says.