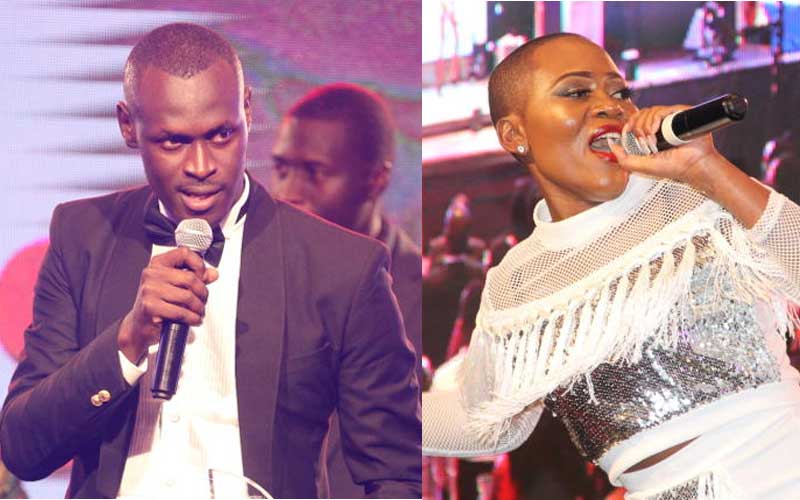 The Pulse Music Video Awards (PMVA) is one ceremony everyone looks forward to. This is where the industry meets to bring the curtains down after a good showbiz year.
The awards are an offshoot of Pulse, Kenya's pioneer weekly showbiz magazine that has ruled the industry as a trendsetter for 15 years.
It is yet another bold move by the creators of showbiz, an urban youth-fronted celebrity culture that wasn't in existence before the magazine came to be.
With the continued growth of the magazine, the PMVAs was born and it has grown in leaps and bounds every single year.
The fourth gala night of the event did not disappoint. Here are some of the highlights only Pulse paparazzi could pick out.
So late for Sosuun
Known for her energetic stage presence with club-bangers such as Kufunikwa and Sura ya Kazi as well as her 2018 release Habari ya Mjini, Sosuun had missed out in the nominees' list.
That is not to say she hasn't had a good year and so come the night of the stars at the PMVAs, she was up to the game as one of the performers of the night.
Sosuun arrived a bit late in the company of her celebrity husband KenRazy. By the time she was getting to the red carpet looking all hot, the red carpet ceremony had been over and all the guests moved to the ballroom for the main event.
"You mean I am not getting any photo on the red carpet. How now?" she asked one of the ushers and insisted that she would still get a photo moment, which she did.
When it was her time to perform, Sosuun found herself on stage without her dancers. Apparently, they had not been informed that she was next on stage and with about two minutes for them to change, they could only join her when she was halfway through her first song.
"Where are my dancers!" she was heard screaming before giving an earth-shaking performance that everyone liked.
Khaligraph and King Kaka moment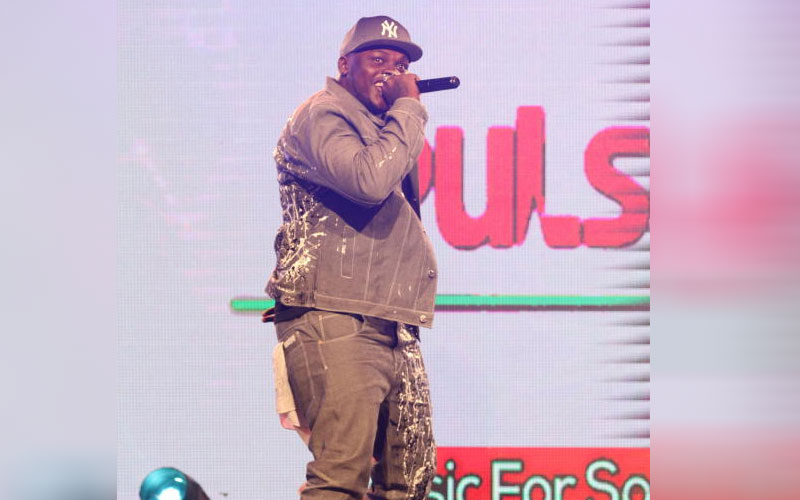 Khaligraph Jones aka The OG and his boys arrived in style and after their red carpet moment, opted to stay in the holding area away from the cocktails area where other artistes where.
Of course it was going to be a big night for Africa's greatest rapper of the year and the fact that he had been nominated in the Best Male Video of the Year category against King Kaka, who is perceived to be his rival, made this one a tough one to call.
A few minutes later, King Kaka arrived with his entourage and they were shown to the same holding room where Khaligraph and his buddies were. There was a bit of tension and The OG could be seen walking out trying to keep himself busy.
The two had great performances and everyone still believes Khaligraph killed it. However, King Kaka went home with the award…not just the Male Artiste Video but also the Viewers' Choice Video, both for his new song Dundaing - featuring Kristoff - who was also there to share the glory.
By the time King Kaka was giving his appreciation speech, Khali was nowhere to be found.
Chero and Makori Chemistry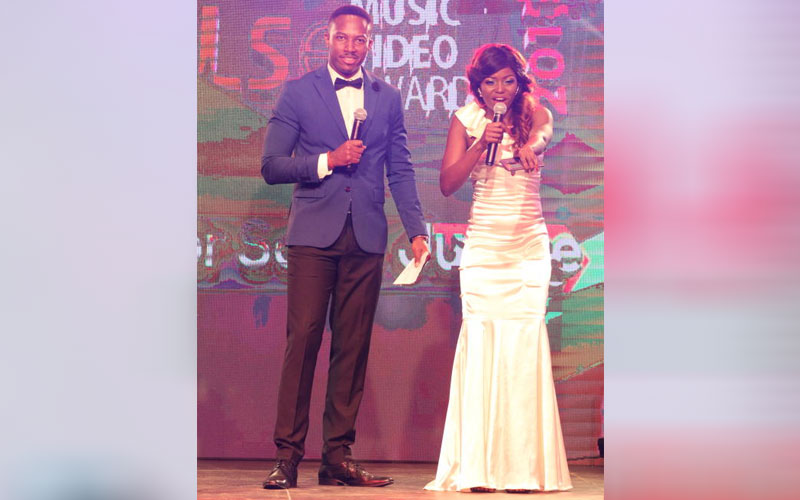 Hosting the event as MCs for the second year, celebrated TV personalities Chero and Mike Makori enjoyed good chemistry. They were such a couple and thanks to their designers they looked the real hot cookie.
Their introductory move was quite the surprise. While Makori took to the stage to kick off the event, Chero remained hidden among guests at the main arena only to appear looking like a queen when Makori called out her name.
Chero had over five outfit changes and her staircase hairstyle was quit a trendy topic all night long.
Thandiwe and Gaddaffi on the red carpet
They are youthful and loved by many, so when KTN's new showbiz girl Thandiwe Yego and Jamal Gaddaffi took the red carpet slot for the fashion interviews, glamour and glitz there was no doubt going to find its rightful place.
Jamal had been dressed by celebrity designer Ashok - who was joined by award - winning designer Sir Jay at the event. There was a lot of flirting at the red carpet as celebrities brought in their 'A' game with memorable looks by top Kenyan designers.
Jaguar and Frasha 'fashionably' late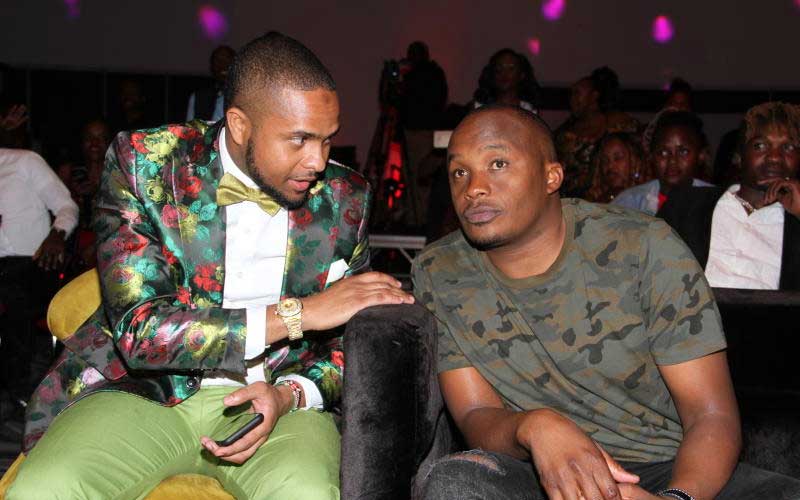 We must apologise! Mheshimiwa Jaguar got his invite late but that did not stop him from attending the event.
By the time the event was starting, the singer-turned-politician was in the middle of another event and so he never had time to go change for the night. Accompanied by Frasha, the two arrived in style – with Jaguar in a T-shirt.
"I really don't want to take the VIP seat. Do I have to go sit there? Wacha nikae na wananchi wenzangu huku nyuma (let me seat with the rest of the people at the back)," Jaguar begged.
But the wonderful ushers would not take that and so Jaguar found himself in the spotlight, seated next to the Standard Group CEO Orlando Lyomu, Nairobi County Women Representative Esther Passaris and Bonfire Adventures CEO and Co-Founder Mr Simon Kabu. 
Obia and the Money Boys
Nairobi businessman Obia arrived at the venue looking like the boss. Someone said: "He looks and smells like money." We laughed.
Of course Obia was with his 'cash money boys' whose golden chains and fresh look had many female fans really smitten.
They offered to buy some drinks for whoever was interested before offering to sponsor an after-party at 40/40.
Elani no-show and a Fena moment
Elani won the Group of the Year Video award but unfortunately, they were a no-show, something that disappointed their fans after such a heavy vote. Sauti Sol too did not make it.
Thank God for Fena, last year's PMVA Female Video winner who was on standby to receive the award on their behalf.
Nandia Mukami who had been nominated in the New Artiste' Video category gave a good account of herself by giving a memorable performance.
Trends and phone calls from home
The show that was airing live on KTN Home had millions watching from across the country. It was one of the trending topics of the night at #PMVA2018.
And peculiar as they get, right after the show went live, it was like everyone at home started calling the guests excited that they had seen them on TV.
Grand arrivals
As is routine at the PMVAs, celebs are known to make grand arrivals and exits. And Trademark Hotel being the new talk of town, all looked set for Limo rides at the arrival moments.
Unfortunately, it was hard to notice the grand arrivals as the entrance was far from the red carpet. Which again was a good thing for those who arrived on 'nduthi'.
Kush Tracey glow
Everyone was looking all hot for the red carpet. But there was a happy glow from Kush Tracey, a PMVA winner. Something seemed to tickle her and she was visibly happy all night long.
However, there was video vixen Cindy who wasn't so happy after she failed to get the Video Vixen award. She was overheard asking; "What time are we leaving for the after-party at Kiza." At Kiza she appeared and represented hard.
King Kaka's diss
Kaka Empire CEO King Kaka was the biggest winner at the awards after he bagged two awards; Male Video of the Year award and Viewer's Choice of the Year.
He insisted that Kenyan media support local talent and stop publicising of foreign videos that a majority praise for their quality and what not: "We all work with what we have.
Hauwezi niita gig ya 70k na unangoja niproduce video ya milioni (You cannot invite me for Sh70,000 gig and expect me to produce a million-shilling music video)," he joked amid laughter and cheers from the audience.
Would you like to get published on Standard Media websites? You can now email us breaking news, story ideas, human interest articles or interesting videos on: [email protected]