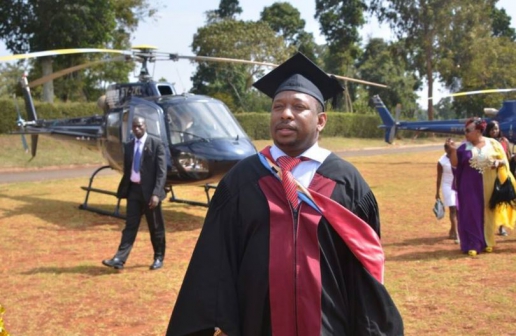 Jubilee Nairobi governorship candidate Mike Sonko has said he no longer punches walls as he is now a degree holder.
Sonko said he had changed his behaviour after getting a university degree.
"Many things happened during my time as MP but not as a senator. I have gone to school and now I have grown up. One of the things I studied was governance and ethics," said Sonko.
He revealed this during a debate with Governor Evans Kidero on Radio Citizen on Sunday.
The two, who have had frosty relations in the past, took jibes at one another. Kidero had said the senator still had image issues and this didn't augur well for the city.
In his defence, Sonko claimed Kidero had left the city filthier than he found it. He also said the city was faced with a traffic nightmare and asked the governor to rectify the matter before his tenure expired.
"I was in Ruai and AIC churches where I was officiating a function and that's why I was late. I was also battling a massive traffic jam while coming here and perhaps my friend the governor can address the issue in the few months remaining," joked Sonko.
Asked whether he was pushed to pick Polycarp Igathe as his running mate, Sonko said no one pushed him.
"It is propaganda for anyone to say President Uhuru Kenyatta pushed me to select Igathe," he said.
"I chose him because Nairobi needs someone who understands the city. There are other people who I would have selected but most of them were politicians," he added.
Kidero, however, said Sonko picked Igathe because he was clueless. Peter Kenneth, who is also in the gubernatorial race, was expected to be present during the show but did not show up.