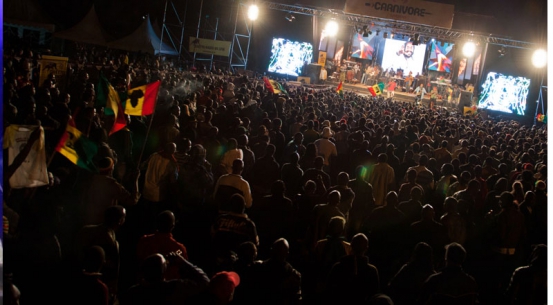 Jamaican reggae star Damian Marley is leaving Kenya today after a week in Nairobi during which he held a memorable concert at Carnivore grounds on Wednesday night.
And as he exits, in comes Grammy-nominated American singer Omarion for a weekend concert at Ngong' Racecourse, the same spot his fellow American singers Mary Mary were last weekend.
The local show biz scene is flourishing with a string of events that that has turned the city into an entertainment haven.
Never before in the history of showbiz have we hosted events and international acts like has been witnessed in the recent past.
This comes at a time when the local entertainment industry almost came crushing after a series of terror attacks that marred the country threatening to cripple the already challenged industry.
"Previously, we were known as the entertainment hub of East and Central Africa before countries like Tanzania and Uganda stole the show. But now we are back. We are commanding the field," says events organiser Chris Kirwa.
As a matter of fact, many international showbiz promoters and music stables are now scouting for offices here and looking forward to use Nairobi as a base to capture Africa, the continent that is believed to be the future of entertainment.
Echoing Kirwa's sentiments is popular events promoter Buddha Blaze: "Currently, Kenya is the New York of Africa. Everything moves fast. If you can make it here you'll probably make it anywhere. We are only half way through the year and look at how many high profile personalities we have hosted, the local events not withstanding."
Artistes, ranging from award-winning Caribbean stars to A list celebrities like Chris Brown and gospel artistes alike have visited the country and put up must-attend concerts.
Last year, Grammy Award winning reggae band Morgan Heritage were the talk of town after seemingly relocating to Nairobi city soon after their concerts. They were on record declaring their love for the city. "This is our second home.
From the people who have shown us their unhindered love to the weather. It's just the place we would love to call home," said one of the band members.
City clubs have also not been left behind in flying in and hosting celebrities for club appearances as well as performances.
According to Kiza lounge proprietor Ali Oumarou, many artistes look up to Nairobi as their litmus test for their success in Africa.
"As Kiza, we create a platform for nurturing and bringing together artistes in our motto of promoting Pan-Africanism," Ali told Pulse.
"We take pride in celebrating our own stars and also give them a chance to met-up with their fans, which helps them correct any faults or flows. Showbiz is everything and no doubt that Nairobi is now known as the showbiz capital," he remarks.
"More and more corporate companies are seeing the need to partner with entertainment stakeholders due to the high return from events.
 Nairobians are hungry for events and majority don't mind spending for a good time," he notes. The new glow has also been attributed to high investment in vibrant entertainment and night life with Nairobi being the home of world-class entertainment joints.
This has gotten revelers into the culture of spending big when it comes to paying for concerts and purchasing drinks.