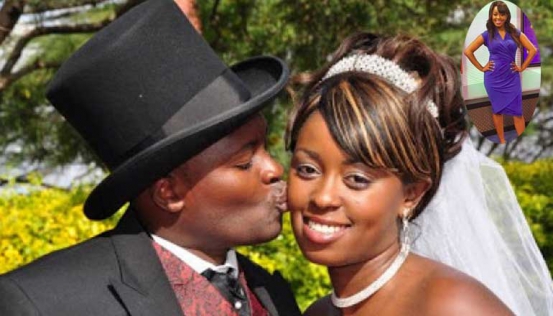 Business temporarily came to a standstill at the KTN studios one afternoon on November 28, 2008. News anchor Lilian Muli had just come out of the studio after reading the 1pm news.
Waiting for her in the newsroom was her fiancé of four years, Moses Njuguna Kanene. He had come bearing two gifts wrapped in elegant boxes.
The bigger box had a cake and inscribed on the icing were the words every single woman wishes to ear, 'Will you marry me?' The contents of the second smaller box changed Lilian's life… and her name.
He went down on one knee and as an emotional Lilian burst into tears as she accepted Kanene's proposal and a diamond engagement ring.
"It was a big surprise. I was very excited. I mean, he went down on one knee and popped the question: 'Will you marry me before everyone?' I think this was a big step for him too, given that despite some of those negative articles written about me (dating other men), he trusted and loved me," she said in an interview after her surprise engagement.
The love-struck TV beauty broke into tears as she accepted the proposal. The newsroom was transformed into a scene out of a Mexican soap opera as Lillian flaunted her engagement ring.
"I cried like a baby. Look, here is the ring.
 He means a lot to me and taking this to the next step makes me a happier girl. We have been going out for the last four years and we are deeply in love," she said, adding that, "He is a polite, quiet and hardworking guy who does not like media publicity.
 I am protecting him from the glare of the public," gushed the alumnus of Daystar University. On Saturday, September 5, 2009, Lillian and her fiancé solemnized their union in a colorful garden wedding held at Windsor Golf and Country Club with Pastor David Kabibi presiding over the pink and white themed ceremony.
 Among the bridesmaids was Lillian's colleague Cynthia Nyamai, then at KTN. The groom came in a convoy of six E-class Mercedes Benz cars, while the bride arrived in a white vintage car with pink ribbons.
 The Weavers Band later entertained guests for the rest of the day before the lovebirds fl ew out for their honeymoon in Seychelles.
After returning from honeymoon in the Seychelles, she changed her name to Lilian Muli-Kanene to signify her new status, but gradually she dropped the 'Kanene' from her name.
Rumors that her marriage was nosing south were confirmed during her One-on- One live television interview in 2014, when veteran journalist, Jeff Koinange, requested whether he could autograph his bio, Through My African Eyes, with the names Lilian Muli Kanene. "No. Muli is just fi ne," said Lilian.