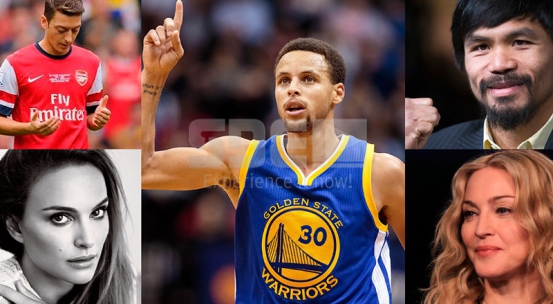 Mohammed Ali
Famed for being boxer of the century and the brain behind monikers such as "Impossible is nothing", "Fly like a butterfly and sting like a bee" and "Don't count the days, make the days count", Ali always manifested his faith in and out of the ring. He always claimed and made it clear where his strength came from: Allah.
Born Cassius Marcellous Clay, he changed his name to Mohammed Ali after declaring his conversion to Islam. Two things were clear: Ali was a talented boxer and an Islamic faithful, key pillars to his success.
Mesut Özil
It's the holy month of Ramadan and ordinarily Muslim players are expected to head into games without fluids or food. This time around, football fans were in a for a shocker after Arsenal's front player Mesut Özil announced that he wouldn't be fasting during the on-going UEFA Euro championships.
"The weather is too warm in summer. We have intense workouts and games, so it is impossible to fast for me," said Özil.
His faith allows him to break from fasting, although he has to make up for it later in the year.
Steph Curry
Throughout his record-breaking career, Curry has reminded fans that without God, what he does would be worthless. The star demanded that his favourite Bible verse, Philippians 4:13, be imprinted on his shoes.
Natalie Portman
You saw her in the movies Black Swan, the Professional and Star Wars, but you probably didn't think she was religious.
"The older I get, the more I realise how different it is to be a Jew in a Jewish place as opposed to a Jew in a non-Jewish place," she said in an interview with The Telegraph. "It's definitely a different feeling in terms of how freely you can be yourself and celebrate your culture and religion."
Dani Alvez
Considered one of the best tattooed footballers by The Telegraph, his arms are adorned with Catholic images and dedications to his family. A cross and a portrait of Jesus Christ on his left arm stand out.
Whenever the Barcelona wingman scores a goal, he is seen whispering to the sky as if to pay an ode to the higher deity. Other tattoos include that of his mother and other family members.
Kaká
A born-again Christian, the Brazilian footballer is famous for his "I BELONG TO JESUS" branded T-shirts that he shows off every time he scores.
His public confession of his faith and sheer talent saw him become the world's first footballer to gather 10 million followers on Twitter back in 2012. Many argue his proclamation to Jesus' love has endeared him to many Christian sport supporters.
Manny Pacquiao
After his much publicised bout with Floyd Mayweather, he donated some of his proceedings to the church. During an interview on religion while in America, he said: "I'm happy because I found the right way, salvation, born-again. We are required to be born-again, all of us. Christ said unless we are born-again, we cannot enter the kingdom of God."
Papiss Cissé
The Senegalese striker who is Muslim got into a dispute with his Newcastle United team after he refused to wear his club's sponsor logo. Cissé declined to wear the Wongo-branded shirt on religious grounds, saying that he would not promote the money-lending business during the month of Ramadhan, consequently pulling out of the pre-season tour to Portugal.
The striker had even suggested that he puts on an unbranded logo or a charity logo instead. Another player, Frédéric Kanouté, used to modify his Sevilla shirt, to obscure the sponsorship from online casino 888.com. The club later explained that the player was not endorsing gambling by wearing it, and that he would be excused from any promotional materials.
Madonna
The world called her crazy when she started taking religious classes but she was clear on what she wanted to do.
"I was accused of being brainwashed. Of giving away all my money. I was accused of all sorts of crazy things."
She added: "Now, you would think that studying the mystical interpretation of the Old Testament and trying to understand the secrets of the universe was a harmless thing to do. I wasn't hurting anybody. Just going to class, taking notes in my spiral notebook, contemplating my future. I was actually trying to become a better person."