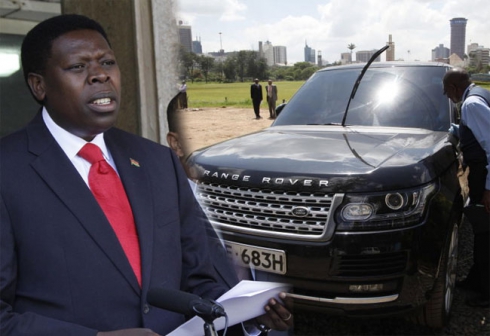 A vehicle owned by Water Cabinet Secretary Eugene Wamalwa has been seized after it was found with a fake number plate in the ongoing crackdown by tax men.
He is now the biggest victim of a complex tax evasion syndicate involving importers, clearing agents and revenue authority agents, some whose vehicles have also been impounded.
Some 124 high-end cars with unpaid taxes worth over Sh300 million have been placed on the wanted list.
Kenya Revenue Authority officials said the CS' black luxury vehicle, a Range Rover V8 model manufactured in 2015, has a number plate belonging to a truck.
Wamalwa's handlers surrendered the vehicle early yesterday, hours before the 11am deadline.
"We were asked by our boss to bring the car here," said one of his two aides. The KRA investigators collected the car's information including the engine and chassis numbers before letting the two to leave.
Results of a preliminary query of the system showed that the registration number of the luxury car, KCE 683H, had earlier been given to a truck/lorry sometime last year.
But Mr Wamalwa said that he was merely a victim of the tax evasion syndicate; an innocent buyer who paid the full amount to the seller before taking ownership of the car a few months ago.
"I bought what I believed to be a genuine vehicle some months ago but when I saw my car on the list, I had to act promptly to surrender the car," he said. He said the process of transferring the car's ownership to his name was actually complete.
The acquisition was made through an intermediary company, Wamalwa, who is the second owner in the country said.
By late afternoon, less than 10 cars had been surrendered at the Kenya Railway Club as directed by the KRA.
It was a day of horror for the motorists who drove into the Kenya Railways Club to meet the KRA officials as directed but were forced to leave their cars behind.
Such was the fate of a man who declined to give his name who walked out quietly after surrendering his white Toyota station wagon. He was informed that records at KRA showed that his car's registration number had been given to a BMW.