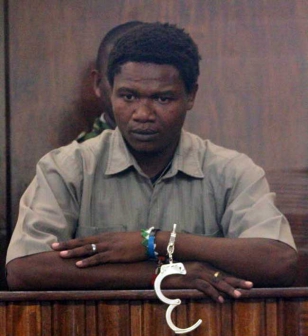 A self-confessed 'vampire' who shocked the nation eight years ago has denied eating human flesh or drinking human blood.
Geoffrey Njoroge Matheri alais Fongo, in his defence against murder of a woman, also denied eating rats as claimed by some witnesses.
The convicted kidnapper has been charged with the murder of Miriam Wairimu on August 29, 2008 in Kihoto estate, Naivasha. It is alleged that Fongo stabbed the deceased several times before sucking her blood.
Appearing before Nakuru Resident judge Maureen Odero last Friday, the former street boy said it is the police who linked him to the allegations, during his arrest.
Fongo tickled the court when he told Odero that if indeed it was true he ate human flesh and drank blood, he would have descended on his colleagues at Naivasha Maximum Prison. "Kama ingekuwa ukweli nilikuwa nakula watu na kunywa damu, si ningekuwa nafanya hivyo gerezani?" (If it was true that I ate human flesh and drank human blood, what would have stopped me from doing the same in prison?) he said before the court burst in laughter.
But Odero asked him how possible it would have been in the presence of prison wardens: "Do you think that would have been possible in the presence of those people (wardens)?" But Fongo only smiled.
He said allegations that he supplied a certain pastor with blood were also false. Fongo also denied being the owner of a mud house in Kihoto estate where Wairimu's body was found.
KIDNAP SAGA
Naomi Wanjiru, who had been kidnapped by Fongo before being rescued, told the court she was kidnapped by four men at around 7.30pm and taken to Fongo. Wanjiru said Fongo stabbed her and later took her to his house in Kihoto, where she found another woman who had cuts in her face.
On March 4, Odero ruled that Fongo had a case to answer and put him on his defence. This was after the court (in December 2015) cut short the prosecution's case, locking out four more witnesses and ordering them to close their case. In November 2011, a Naivasha court found Fongo guilty of kidnap and handed him a four-year jail term, which he has already served.
Related Topics