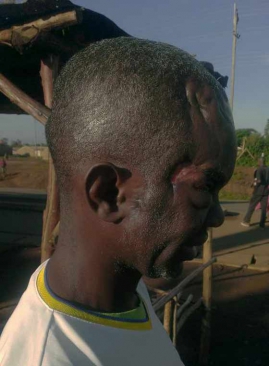 Kisumu has a quiet calm and charm not common in other cities in Kenya.
The ambience of the tree-lined avenues of the posh Milimani estate bordering Lake Victoria gives one a refreshing feeling.
But in recent times, when night falls in parts of the city that has historically enjoyed relative security, the silence is shattered by screams and gunshots. Somewhere, someone would be at the receiving end of a razor sharp machete brandished by a hardened criminal.
In the past decade, the lakeside city has experienced an unprecedented economic boom, characterised by heavy investment in real estate, hotels, entertainment joints and retail outlets. But this boom has brought with it brutal thugs who lurk in the shadows to kill, maim and steal.
The most dreaded of all is '42 Brothers,' a gang whose very name sends shivers down the spines because they rape, rob, shoot and slash their victims with unbridled ruthlessness.
Armed with guns and machetes, 42 Brothers are said to operate in groups of 10 or more, terrorising residents with such impunity that they lurk at the scene of attacks fearlessly and saunter away with ease and on foot.
Anthony Oballa, a social worker and football coach who mentors children in slums, was two months ago brutally attacked by armed thugs around Kondele and left for dead. He survived and was hospitalised for over one month.
"The thugs just hit me from the back and I lost consciousness," said Oballa.
So severe was the attack that it left him with deep cuts on the head and eye. Unfortunately, he is yet to undergo surgery due to lack of funds.
But even as police train guns on thugs who operate at night, especially the dreaded gang 42 Brothers in Kisumu, a new wave of crime targeting M-Pesa outlets and banks in broad daylight has emerged after a lull from earlier in the year.
Two weeks ago, police shot one person dead and arrested five others who staged a daring daylight robbery at Equity Bank along Ang'awa Street.
A week later, armed criminals shot dead an M-Pesa agent at Mowlem in Nyamasaria estate and fled in a getaway car with an unknown amount of money. Two people have so far been arrested and two AK 47 rifles recovered in connection to the robbery.
This came barely a day after Deputy President William Ruto's ally and point man in Nyanza, George Ayugi, who is popularly known as Mbuta, was carjacked by armed robbers and later dumped in Nyawita estate.
Ayugi, who is a director at Lake Victoria South Water Services was travelling in a private vehicle but was accosted at around 11pm next to his parents' home in Nyamasaria.
The five suspected robbers who were armed with AK47 rifles and a pistol, ordered him and his driver to lie down before bundling them inside the car's boot. They moved around Kisumu town at night before dumping them in Nyawita slums.
Although police have killed about 10 people in the past one month and arrested eight suspects who they claim were identified by residents as being members of the dreaded gang, the crime wave is not relenting.
On October 20, a suspect was arrested while another fled after they attempted to carjack a Chinese national along the Kisumu-Kakamega road. The two accosted the Chinese who works on the Mamboleo junction bypass project and another person in a Nissan double-cabin pick-up just as he was leaving the construction site.
Thugs are also spreading their terror as far as Kisumu West in the outskirts of the town. Mohammed Hussein Sharrif alias Mzito who police say is a member of one of five machete-wielding gangs terrorising residents in the palatial homes of Riat, Mamboleo, Ahero, Kanyakwar and Migosi estates, was shot dead on October 24.
The groups operating in Kisumu West include Kanyamedha gang which operates in Riat Kogony, Kanyamedha and Kanyakwar areas. Others are Nyahera, Kapuonja/Kwamundhi, Karateng' and Holo/Obambo gang which was headed by a suspect who was lynched a few months ago by irate residents after he confessed to having led the team that attacked Mbeere District Administration Police Commander SSP Henry Onyango.
Migosi is said to be most affected, with areas such as Kondele Primary School, Lolwe, Fourems and Call Box being the most dangerous places.
Kisumu County Deputy Governor Ruth Odinga lamented that the current state of insecurity in Kisumu has reached a level that is scaring investors and some businesses are reportedly closing early for fear of being attacked and robbed.
"We are no longer safe, the IG should really take the issue of insecurity in Kisumu seriously," said Ruth Odinga.
The deterioration of security got the attention of the Inspector General of Police Joseph Boinnet, who visited the city two weeks ago to assure residents of the government's resolve to restore order.
"Kisumu is a priority area when it comes to security and we have been studying the situation for a while," said Boinnet.
Addressing about 400 police officers at Tom Mboya Labour College, Boinnet asked the security personnel to unite in the fight against criminals.
Kisumu County Commissioner John Elungata indicated that the police have increased patrols in crime-prone areas and are waging an all-out war on criminal gangs terrorising residents.
"I believe that the number of the 42 Brothers gang has reduced drastically given the work the police have been doing in the past one month," said Elungata.
He said that the criminals who have been unleashing terror on residents of Kisumu are from within and should be smoked out.