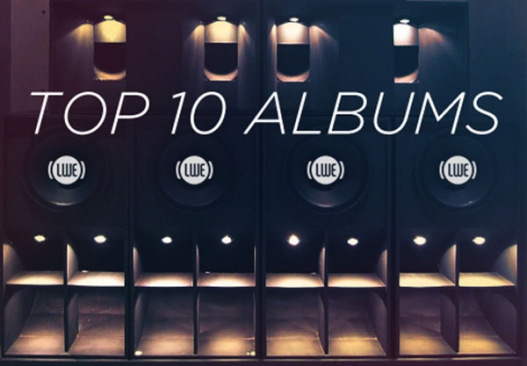 Many albums have been released this year. Some dominated the global charts like Taylor Swift, Ed Sheeran, Kendrick Lamar and Drake. Josphat Thiong'o brings you the most popular albums of 2015.
1989 by Taylor Swift
According to the Billboard 100, Taylor swift takes the lead with the most album sales and that translates to her having the top album of 2015 if the charts are anything to go by. 1989 was the top selling album of 2014 (3.661 million sold that year) and remains the top seller of 2015 so far.
It famously debuted at No. 1 on the Billboard 200 chart with 1.287 million sold in its first week.
1989 eventually became the best-selling album of 2014 in the US market and sold over 5 million copies as of August 2015 and 8.6 million worldwide. There is no doubt that Taylor should stick to pop seeing that it was her first 'full pop album'.
If You're Reading This it's Too Late by Drake
There is no doubt that the '6 God' tore the music scene apart after he debuted his hit album 'If You're Reading This it's Too Late' which caused an uproar on the hip-hop scene.
It quickly became the first album released in 2015 to sell a million copies in the U.S. second only to Taylor's. Its cumulative total now stands at 1.007 million.
The album was released on February 12 through Young Money/Cash Money records and debuted at No. 1 on the Billboard 200 chart.
From tracks such as '6 God' to 'Energy', Dreezy brought the heat on this one. His mixtape sold over a million copies worldwide earlier this year, but most people look at US sales when referring to certifications.
To Pimp A Butterfly by Kendrick Lamar
The third studio album by American rapper Kendrick Lamar was released on March 15, 2015, by Top Dawg Entertainment and Aftermath Entertainment, and distributed by Interscope Records. According to Billboard 200, the album surpassed 500,000 in cumulative sales. That makes it the seventh album to sell half-million copies in 2015, thanks to the artistes' social relevance in his lyrics.
The year is still on the move and judging from the acclaim Kendrick is getting, it definitely isn't the last of his sales. With assists from producers such as Boi-1da, Flying Lotus, Terrace Martin, Pharrell Williams, Knowledge, Sounwave and Thundercat, it definitely is a masterpiece.
Beauty Behind The Madness by The Weekend
The 13-track album with popular tracks such as 'Can't Feel my Face' and 'Earned it' debuted at number one on the Billboard 200, with sales of 412,000 (326,000 pure album sales), making it The Weekend's first number-one album. In its second week, the album remained at the top of the charts with 145,000 equivalent copies, 77,000 in pure sales.
Having been released this month, all eyes are on the star who's shown tremendous potential.
Smoke + Mirrors by Imagine Dragons
Released on February 17, 2015, it debuted at number one on the Billboard 200 in the United States, moving more than 172,000 units, and also debuted at number one on the UK Albums Chart and the Canadian Albums Chart. It has since been certified gold in the United States, United Kingdom and Brazil.
AT.LONG.LAST.A$AP by A$AP Rocky
The set, which was released on May 26, moved 146,000 equivalent album units in the week ending May 31, according to Nielsen Music. At.Long.Last. A$AP is the sixth rap album to lead the Billboard 200 in 2015, following the Furious 7 soundtrack, Wale's The Album About Nothing, Kendrick Lamar's To Pimp a Butterfly, Big Sean's Dark Sky Paradise and Drake's If You're Reading This It's Too Late.
Although the definite sales figures are a bit elusive, there is no denying that 'Lord Flacko' has conquered far beyond his New York hometown and made his way onto numerous playlists. 
The Album About Nothing by Wale If you are a Wale fan, then you know that he prefers cleverness over anger.
The album debuted at number one on the US Billboard 200 chart, selling 88,000 copies in its first week, but made more through downloads.
Released on March 31, 2015 by Maybach Music Group it features guest appearances from Jeremih, J. Cole, SZA and Usher. The album, was recorded from 2013 to 2015 and serves as a continuation of Wale's Seinfeld-themed mixtape series.
Compton by Dr Dre
The much-awaited master piece comes years after Dr Dre's 'The Chronic' and with Dre having amassed a large fan base from years back, the album is set to reap heavy especially with the fact that it was launched almost at the same time as Straight Outta Compton. It's still too early to judge on this one.
Dark Sky Paradise by Big Sean
The album debuted at number one on the Billboard 200, selling 173,000 equivalent album units and 139,000 copies in the first week.
As of September 2015, the album has sold 322,000 copies in the United States. All we can say is that Sean has come a long way and didn't disappoint.