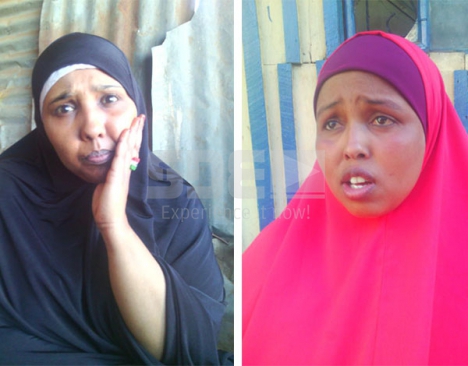 Five women whose husbands are held in Somalia have asked the government to help bring their men back.
The five men were allegedly kidnapped by hooded gunmen on October 11, 2014 in Boni Forest as they headed to Kiunga to deliver miraa. They were driven into Somalia where they were held captive for two weeks before being set free.
Anwar Abdi, Ali Omar, Abdirahman Mohamed, Deeq Mohamed and Shukri Noor were however later arrested allegedly under the instructions of Kenya Defence Forces in Somalia.
Speaking to The Nairobian in Maua, the women said the absence of their husbands had forced them to live like widows.
"I am now like a widow... A widow is even better because the husband is dead. What can you call my situation, you know your husband is alive, but cannot see him," complained one of the women holding a six-month old baby.
"We have made several trips to Maua Police Station but without success. Please ask them to release him for the sake of the children,"
Fardosa Noor, wife of Shukuri Noor, said: "I hope he will come back. We have nothing to eat. We are just surviving on hand outs from friends and relatives."
Abdirahman Mohamed's brother Abdirashid Ahmed claims his mother is unaware of his son's whereabouts: "She believes Abdirahman is in Nairobi. I think it is time we told her the truth."
Fatuma Abdi has not communicated with her husband since his abduction.
The five men, who spoke to The Standard on phone from their incarceration in Kismayu, said they were in poor health with nothing to eat. Abdirahman said: "We are suffering so much. We don't know what is going on. Police officers here tell us they are waiting communication from Nairobi before they release us."
When contacted, the cabinet secretary for Internal Security Joseph Nkaissery said: "I am hearing this for the first time. If it is true there are Kenyans suffering in police cells, then that is very sad." The CS promised to consult the Criminal Investigations boss Ndegwa Muhoro and the Inspector General, Joseph Boinnet before issuing an official statement.
Boinnet when reached said that, "I am not aware of any Kenyan being held by Somalia police. I will have to check and get back to you when I have full information."
The Department of Defence (DoD) could not say if they were aware of the arrests. -Kibiwott Koross