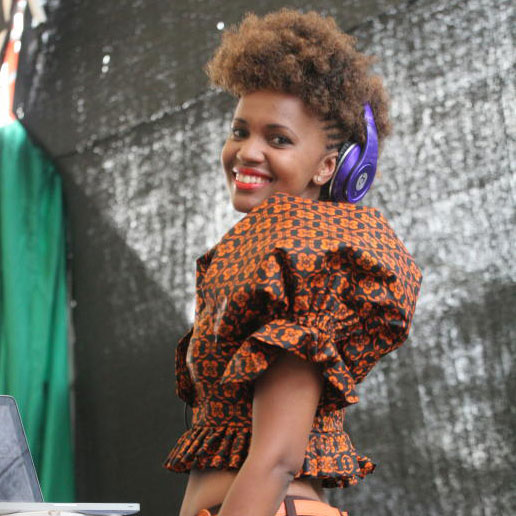 Dj Makena Piera during this year's MCSK Awards at the Carnivore grounds, October 20,2014. Photo/Elvis Ogina (Nairobi)
I came to Nairobi after high school. Before leaving Meru, I told all my friends about it and boy didn't they envy me.
KBC had approached me to act in 'Tausi' and 'Kisulisuli' and so, my father drove me to the big city. When we got to Thika Road, I was puzzled by big bulbs sitting on tall metallic poles. I later learnt that these were streets lights.
I was also amazed by billboards and wondered how such big photos got up there. Quietly, I imagined it must have taken years to paint these big pictures. Of course you can't take this on me; there were no billboards in my village.
Getting to KBC and seeing all the famous faces on TV left me star-struck. I kept calling out their names to figure out if these guys were truly human.
While having lunch at the canteen these stars ate the food we ate and were in fact very normal human beings. Looking back, I must have been really naïve.
Later on, as we drove to my aunt's place in Ngong I was introduced to the 'centre of Nairobi' also called KICC.
It would be the landmark to look out for in case I got lost in the big city.
While rude and careless mathree drivers angered me, mini buses painted with graffiti and played loud music got my attention.
Besides, the touts who sported cornrows and wore baggy jeans with checked shirts and Reeboks looked 'fly'.
I finally felt at home in Ngong town thanks to that 'shags-like' environment.
-As narrated to Cate Mukei