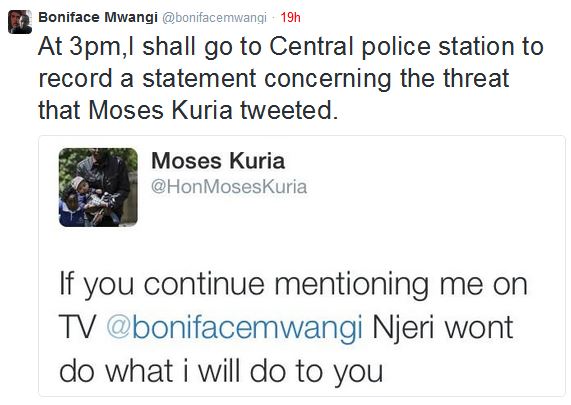 By Sheila Kimani (@sheilakimm)
Kenyan activist Boniface Mwangi's quest to challenge the "status quo" and fight for the rights of the common Kenyan citizen has seen him rub shoulders the wrong way many times.
Consequently, this has led to his arrests and threats by the top shots who believe they are "untouchable". It is Hon Moses Kuria's threatening utterances on social media against Boniface that left onlookers wondering how a leader of his caliber could utter such words.
"@HonMosesKuria: If you continue mentioning me on TV @bonifacemwangi  Njeri won't do what I will do to you." Moses wrote on his social media media pages. Apparently, Boniface who was sitting in at the Check point panel hosted by Yvonne Okwara on KTN, questioned how some leaders were helping their people.
Amongst those named was Moses Kuria who did not take it kindly. Perhaps seeing that he couldn't stop or make Boniface take back what he had uttered, Moses took to social media to pass his threat and warning.
As it is Njeri is Boniface's wife and the mother to his children, so the comment passed by Moses Kuria was evidently too "personal" and out of line.
In response Boniface reported the case to Central police station. @bonifacemwangi At 3pm,l shall go to Central police station to record a statement concerning  the threat that Moses Kuria tweeted.
True to his word Boniface was at the police station and he successfully recorded his statement.