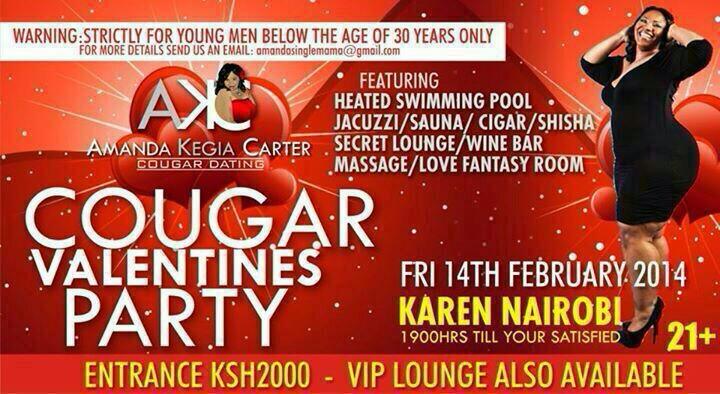 Photo: Courtesy
On Valentines Day, as love birds will be spending unreasonable amount of time and money declaring their love, young hot-blooded Nairobi men will be canoodling with elderly women in Karen after parting with Sh2,000.
The party is a private invite only event and the men must show proof that they are below 30 years of age.
"Only registered members will be contacted and given location. This is a private members only event," reads a flier promoting the event on social media.
"Registration started on February 1 and will run up to February 9 through telephone number 0733 835 135. The money will be inclusive of dinner and drinks and shisha lovers will be treated to a shisha lounge."
"The event doesn't have an official dress code, but men are advised not to come wearing suits because 'most of the activity that night won't require a man wearing anything'. No photography or video recording of any kind will be allowed.
"After receiving your fee, we will send you a confirmation text and an e-ticket to your email, and the patron will then need to provide both the original Airtel Transaction text and e-ticket at the entrance. Membership not transferable. Life is a hassle!" reads the advert.
Kimani Githongo, a counselling psychologist, explains that the most fundamental and basic layers of the Maslow pyramid contain deficiency needs which are: esteem, friendship, love, security, and physical needs like breathing, water, food and sex. Sugar mummies, therefore, desire to have satisfaction of a basic need that is sexual in nature. In the process, they also satisfy an ego — the sheer feel of being in control over a man.
A young university student who is dating an older woman says that being in a relationship with an older woman is not as tragic as people may think because apart from being older, the woman still has 'womanly' features which, according to him, are still desirable.
At the onset of their relationship, he says, would get creepy feelings when they met in public but that waned with time and things eventually settled. Their relationship was mutual — he got comfort while the woman got companionship and love.
According to Githongo, greed and lust on the part of young people who are lazy, lack motivation and are clueless on how to win the love of women their age, or younger, is a fundamental drive in initiating sugar mummy relationships.
But whichever way you look at it, a cougar is a woman who sleeps with her son-in-law while a sugar daddy is a man who steals his son's wife.
Related Topics