| | |
| --- | --- |
| | |
|      Photo: gossiphamagazine.com |        Photo: Facebook\Vera S Baiby |
Socialite Vera Sidika proclaimed earlier in the year that she was forever team darker the berry, the sweeter the juice but looks like she has changed her preference to team berry light.
She had been rumored to be one of celebs using bleaching cream to change her look. The question on everyone's mind was if she had really bleached her skin.
A closer look at her pictures and her suggestive update earlier this week tends to shout a big YES to that question.
Her visibly light skin tone pales in comparison to her earlier chocolate complexion.
Vera updated her status saying, "Thanks to my bleaching cream. No more traces of mosquito bites", alongside a picture showing her new Vera lite version.
The curvaceous Sidika seemed the least concerned as she responded to this allegations through a Facebook update today saying, "People have decided to make my body their business and I'm just LMAO ...I'm just undergoing the last phase of evolution...You mad or nah?"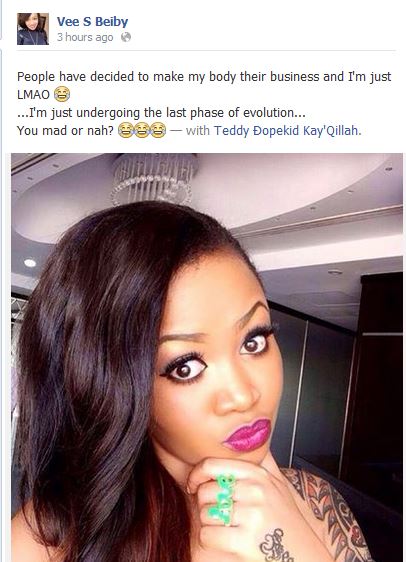 The socialite who featured in Prezzo's new hit video My Gal, has always brushed off the bleaching topic saying that haters want to tarnish her name.
Vera isn't the only Kenyan celeb being shot at by haters. Oscar winning actress Lupita Ny'ongo also got some 'hating' from African singer Dencia.
Dencia fired out at Lupita after she gave a speech at Essence Black Woman in Hollywood Luncheon discussing a fan who reconsidered using Dencia's whitening skin cream, "Whitenicious".
The singer defended her product saying bleaching cream is touted to remove dark spots.