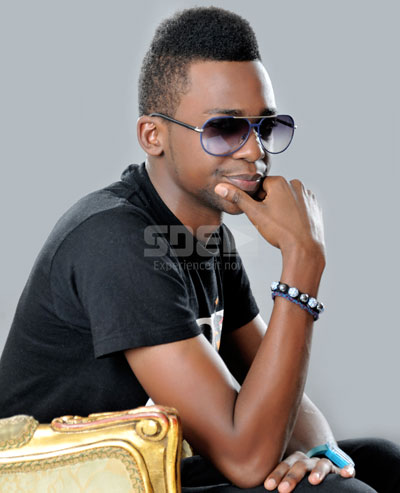 David Weke
Sauti Sol
arguably one of the most popular afro-pop bands in Kenya, Sauti Sol are known for the alluring chemistry in their performances. Before the trio hits the stage for any performance, they all go to the floor on a 200-push-up season!
The Still the One hit singers then humble themselves before God for a word of prayer.
Thereafter each of the group member resorts to a corner for a minute of meditation.
P-unit
For this award winning trio of genge artistes, theirs is a less elaborate affair as Gabbu goes to the loo while the groups' lyricist Bon Eye puffs away his favourite cigarette before they all come together. As for Frasha, praying before any of their stage performances is the key for their thrilling performance.
Frasha says: "I always converse with God seeking the necessary strength for an electrifying performance."
Wilbroda
This outstanding comedian cum radio host Jackie Nyaminde, popularly known to as Wilbroda thanks to her role in the television drama series Papa Shirandula says:
"I always do this jig on set that just gets everyone bursting out. It gives me such an adrenaline rush."
With years of experience in theatre and television, Wilbroda says her lines and character, while on set, come naturally.
Anto Neosoul
As for the gifted neo soul singer popular for his smooth vocals, he readily confesses that he is always very nervous before any of his performances.
As a way of controlling anxiety, Anto Neosoul says that while backstage, he prefers seating at a corner to avoid people as he listens to his favourite jams by either Erykah Badu or Fela Kuti.?
"When it is just about time for me to go to the podium, I am obsessed with checking whether my trousers' fly is intact and I also check my face a lot to ensure its not shinning," he told Pulse.
He says that he applies the same strategy when going on set for any of his television roles.
Moustapha
As for the controversial Ogopa hit singer, before he hits the stage for any performance, he prefers being silent in the company of a pretty chic who never stops talking.
"A pretty fun chic really calms down my anxiety," Moustapha told Pulse.
After this, he tops up with a double tot of tequila, spiced with a lot of lemon and salt to his preference.
"It lightens my spirit all through my performance on stage. It also gives me mad energy on stage when am charged up."
However Moustapha is quick to caution artistes that all might not be well as at times when you take a lot of these hard drinks, it might backfire and cause you to blackout before performance or even while performing, as happened to him some years back.
Daniel Weke
The Mali TV drama actor Daniel Weke, says that over years of practicing, he has managed to learn a few tips that help him control stage fright.
"I close my eyes, meditate and say 'I'm the best'. I also reminisce on where I come from," he says adding it helps keep him in focus for his role.
Weke also told Pulse that he often has to make sure that his dressing is on point as it helps him gather the courage he needs.
Churchill
As for the hilarious comedian Churchill says for his pre-performance ritual:
"I fall asleep and never talk about the event."
Xtatic
The sassy hard-hitting lyricist banks a lot on looks to help contain anxiety and therefore she has to make sure that her make-up is right on point.
"And when I have put on a trouser I have to check that everything is right and its fitting well. I wouldn't like to expose what people are not supposed to see," she told Pulse.
That done, she says that the famous rhymes come naturally when she is on stage.
"I try hard to memorise them as they are my songs," she adds.
Chuchu
The gospel singer prefers singing and dancing to her favourite jam and also does a lot of self-talk to motivate herself that her performance will be the best.
Jolene
As for the Tahidi High actress Jacqualine Mwangi aka Jolene, just before she goes on set to play her role, she spends a minute memorising her lines and thereafter stands in front of the mirror, shaking her considerable booty. Ha!