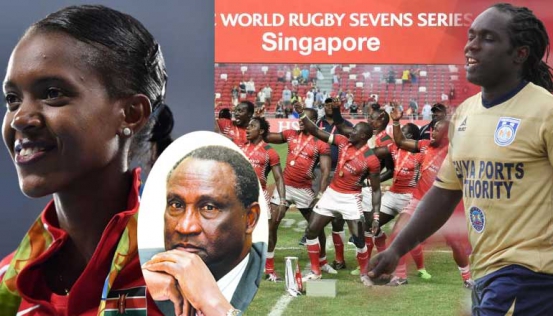 As 2016 comes to a close and we usher in the New Year, sports lovers may want to reflect on the good, the bad and ugly of events of 2016.
This is The Nairobian's 2016 Sports Report Card.
The good
Rugby 7s Singapore win
In April, the Kenya Sevens team made history by beating Olympic gold medalists, Fiji, to captured her first HSBC World Rugby Sevens Series title. In the upset, Benjamin Ayimba's boys beat the reigning Sevens Series champions Fiji 30-7 at the National Stadium. And yes, their names will be written in the annals of Kenyan history. It is worth remembering that this was only the third time Kenya had advanced to the Cup final of a leg of the Sevens Series.
Harambee Starlets in Afcon
Our girls made history by qualifying for the Africa Cup of Nations for the first time ever. The games ran from November 19 to December 3 in Cameroon.
The girls gave a good account of themselves, flooring major teams to qualify. Even though they may not have performed to expectation at the tournament, they nonetheless marked a major history in our footballing history.
Barding wins schools games
For 14 years since the East Africa Secondary Schools games were first held, it has been near-misses and countless heartaches for Kenyan boys' football teams.
However, Barding, beat 12-time champions, St Mary's Kitende of Uganda 1-0 in this year's football final in Eldoret to lift the trophy for the first time ever.
The bad
Robinson Ofuokwo
Nigerian tactician Robinson Ofuokwo Ndubuisi broke the kola nut in January to usher in 2016. Ofuokwo who formerly coached Nairobi City Stars found himself fighting mosquitoes at Tassia Police Post in Embakasi for alleged fraud.
Danny Sserunkuma
The former Gor Mahia goal poacher returned to Kenyan Premier League (KPL) after a failed mission abroad. The diminutive 'Ssebo' has stayed low like an envelope in the coastal city with Bandari without any significant display on the pitch to write home about.
RIP Kevin 'Mangware' Ouma
Footballer Kevin Ouma was one of the Kenyan Defence Forcers officers who died while on duty at El Ade Amisom camp in Somalia. His death in February was a blow to his team Ulinzi Stars and the entire football fraternity.
Legendary James Siang'a dies
Former Harambee Stars goalkeeper James Siang'a passed on after a long illness. The loss shook the entire football family. Siang'a's demise completed a chapter of one of the most successful and celebrated Kenyan football stars.
Rugby twin deaths
First it was 20-year-old Nondescript RFC player Ogeto Gecheo who died at Aga Khan Hospital after he suffered spinal injury during a rugby match. His death brought sorrow to the whole country. A few days later, another player, Victor Wayodi of Mwamba RFC died while receiving treatment at Nairobi Women's Hospital. Wayodi collapsed on the pitch during a match.
Isaiah Kiplagat passes on
The cold hands of death robbed the athletics world of the long-serving Athletics Kenya president Isaiah Kiplagat.
At the time of his death, he was on suspension.
The Ugly
After their triumphant entry at the Jomo Kenyatta International Airport, empty promises to Ayimba's boys, politicians seeking cheap publicity from Benjamin Ayimba's glory made empty promises upon receiving them at the airport. President Uhuru Kenyatta however kept his pledge by and gave the team Sh10 million for winning the Main Cup title at the Singapore leg of the World Rugby Sevens Series.
Thieving athletes in Congo
Some athletes with itchy fingers stole towels and duvets at a hotel in Congo Brazzaville during the 11th All-Africa Games. One of the officials confirmed that indeed he had received reports of the theft. And yes, the Kenyan government was under obligation to pay for the stolen items. That's quite shameful, given that the same group of athletes had also earlier been accused of stealing laundry at the SafaricomSStadium, Kasarani where they had camped before leaving for Congo.
Rio 2016 fiasco
The Kenya National Olympic Committee (NOC), the Ministry of Sports and Culture as well Athletics Kenya (AK) treated Kenyans to a drama akin to a soap opera from Mexico. If it was not about missing kits, bungled bookings or accommodation crisis, then it was about officials carrying their entire villages to Brazil — using taxpayers' money. Then there is that bit where missing kits were allegedly found tucked in some kitchen, gathering cobwebs.
Sam Nyamweya goes home
More than two decades of active football management is along time. That is how long Brother Sam Nyamweya stayed at the helm of Football Kenya Federation (FKF). Well, his tenure — which was marked by allegations of corruption and ineptitude came to a sudden end in February.
Boxer selling avocado
Still on Olympics, remember the year 2012, when Team Kenya was captained by Elizabeth Adhiambo? Yes, that lady now sells avocado in one of the country's slums. It's sad.
Doping scandal
There were claims that Kenyan athletes were doping. The claims almost derailed the Rio 2016 preparations with the international media leading in pushing for Kenya to be banned.