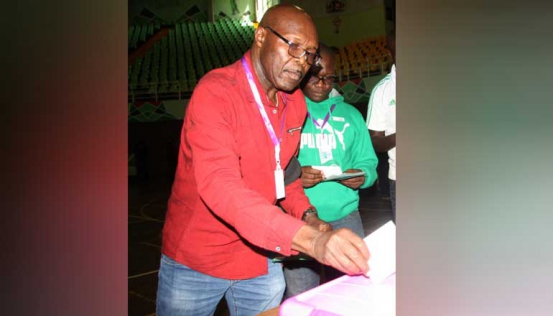 The recent arrest of two women in possession of fake ballot papers stuffed in their innerwear is causing tension in Gor Mahia circles.
According to Kasarani OCPD Robinson Mboloi, the two women were not only caught in the act but also found with incriminating evidence.
"We released them on bond pending further investigations because this was a club exercise, and we are gathering relevant information about the suspects before they are arraigned in court," said Mboloi.
It has emerged that the said ballot papers were marked in favour of Dan 'Wuod Ruoth' Oketch who finished second in the chairmanship race held on December 11 at Safaricom Sports Centre Kasarani, Indoor Arena.
Oketch who had promised to run an elaborate campaign in the club's history with a vow to institute 'Real Change' — were he to unseat Ambrose Rachier — denied the claims saying he had nothing to do with the alleged electoral fraud.
"There is no way any of my team members would access ballot papers," asserts Oketch. "My supporters saw the ballot papers for the first time in the voting hall and none of the voters was allowed to carry them away. How would they have had marked papers?
This was just a ploy by a panicked and fearful Rachier lot that wanted to use every little opportunity to malign me like they have done the whole year," adds Oketch.
But Chairman Ambrose Rachier on the other hand, says: "If Dan says he does not know the women who were found with fake ballot papers, then his claims that the said suspects were sponsored by a different candidate is a white lie.
Now that those who were trying to commit a felony were arrested, I would never interfere. In law we talk about 'compounding an offence' as trying to help somebody who is clearly guilty, I would not want to be involved at all. Let the law take its cause.
Chris Omondi believes some of the candidates were out to subvert the will of the people.
"I believe in the rule of law. If there is proof that the said individuals participated in electoral malpractice, let them be prosecuted," he said.
There are claims of women being ferried to the voting venue and allegedly issued with pre-marked ballot papers bearing code 001 to the tune of nearly five papers per voter.
And now a better part of this war is being fought on social media. The post-election clamour for supremacy, name calling and threats filled Gor's Official fans Facebook page, a scene reminiscent to the backlash reported at Hillary Clinton's camp after losing to business mogul Donald Trump.
Oketch attributes the fallout in his campaign team to common occurrences in every electoral process. He says: "Every team has its low moments. After the real threats, frustrations and missing names on the Election Day; it's just normal to have a frustrated lot."
But why would his top lieutenants, Rateng Mor Kich and Nic Ogange threaten to release a tell-it-all dossier on what transpired before, during and after the elections?
"I have never heard of such allegations or 'promises' and if there are any beans to spill then it shall be a nice read for me too as I am not aware of any such stories.
I don't have the powers to appoint the Gor Mahia CEO and therefore didn't have the powers to promise such a position. Those are falsehoods," explains Oketch.
The rest of the club has moved on, but Oketch says he is not done. Indeed some of his fans have filed a petition at the Sports Disputes Tribunal challenging the decision by the electoral board to strike out over 1,800 names from the final voters' list.
But Rachier says, "the dispute on the register was an anti-climax, as well as the resignation of election board officials with just 10 days left to elections."
Oketch, a young man from Homa Bay County, got 220 votes against Rachier's 579. Chris Omondi finished third with 157 votes.