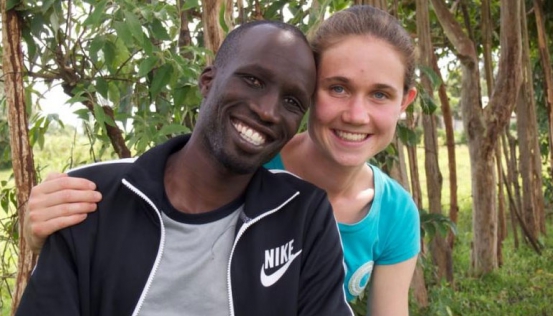 "Running a marathon in the company of my wife was the best time of my life.
It was on May 29, 2016, and my wife was on the verge of Olympic qualifying time so, for 41 kilometers I set the pace for her at Ottawa Marathon in Canada.
"We went to Camp officially on June 15, 2016 so anyone claiming that I sneaked out of camp to pace set for my wife, is wrong and malicious.
I told Athletics Kenya officials that I had already planned to pace set for my wife and I was cleared because there was no problem," Hon Wesley Korir, a marathon star, MP and Rio Olympics Team Kenya captain told The Nairobian in the face of a report that he did not finish the Olympic marathon race because he left camp without permission to pace set for his wife.
The star athlete and politician says Kenyans need to understand hat while training for a marathon, one does so many 40 kilometers.
He says he took the 12,992 km flight from Nairobi to Ottawa, Canada in the name of love.
According to Rio de Janeiro 2016 Probe Committee Report, on May 29, 2016, Korir left camp and proceeded to run as a "pace setter" for his wife who was chasing Olympic qualifying time in the Ottawa Marathon.
The report states that the Team Kenya Captain played the role of pace maker for 41km out of 42km, which was equivalent to running a full marathon.
The report reads in part: "With only a few weeks to the Olympics, the athlete could not recover enough to run the marathon in Rio, considering the distance he had covered and the long travel in between."
Korir dropped out of the Rio Olympic race citing a "water mix-up" problem along the course.
"Someone claiming that running 40 kilometres with my wife almost three months before the Olympics affected my race knows nothing about marathon training and running," Korir told a local daily.
"I did many 40km long runs at a faster pace than what I did with my wife as directed by coaches. I used instructions approved by Team Kenya coaches for the race in Ottawa.
There was no one in camp and everyone was training on his own," explained Korir.
His wife Tarah Korir is a Kenya-based athlete who has represented Canada at major IAAF events since 2012. In an interview with Canada Running Series in July 2016, Tarah confirmed that it was their plan to have her husband pace set for her.
"Wesley has told me he really enjoyed pacing me in Ottawa," she said. "I enjoyed having him pace me, especially because there ended up not being many other people around us. Wesley would love to pace me again if it works out," added Tarah.
But the 29-year-old mother of two explained that training sessions with her hubby could become a challenge at times.
She said: "If I'm going on an easy run, I often go on my own because running with him will turn into a workout with me."
Whereas the 2012 Boston Marathon champion represented Kenya at the 2016 Olympics, the couple did not realise their dream of being the first husband wife duo to compete in the Olympic marathon as Tarah fell short of the Olympic qualifying standard of 2:29:50 in Ottawa.
"Unlike my first marathon, I still was able to maintain a decent pace right up to the end. I knew my chances of getting an Olympic qualifier on my second chance at the marathon was quite a long shot and that everything would have had to come together on race day including the weather.
"Finishing fifth overall — and first Canadian — also helped to make the Ottawa Marathon a special experience for me. I love racing in Canada where I can get support along the course from family and friends," explained Tarah.
Tarah, a Canadian athlete from St Clement, Ontario, just north of Waterloo, met Wesley when the two attended the University of Louisville, a public university in Kentucky, United States of America.
Korir's effort to help his wife now haunts him six months down the line. Whereas the MP blamed the water bottle mix-up during the men's Rio Marathon, the committee's probe report thinks otherwise.
But how does a man set pace for a woman? The MP is categorical that nothing under the sun that would stop him from not only helping his wife.
According to Korir, whereas other Kenyans spend time out there politicking, there is a reason he runs 15 kilometres almost every morning and when not running, he is always in parliament.
Pace setting for his wife in Ottawa was not his first race in Canada.
In 2014, Korir not only participated in Ottawa Marathon but he visited weeks before the road race to meet his Canadian counterparts on the parliamentary committee for international development and to attend a screening of the documentary tRANscend, in which he runs from victory at Boston to victory as an independent candidate in the 2013 Kenyan elections.
"In the past, running was my main career and leadership was my hobby.
That has given to me knowledge that I have a talent for running and a call for leadership. What I want is to combine the two and use the two for the people of Kenya," Korir told Ottawacitizen.com