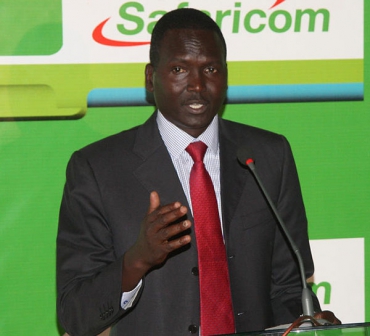 Athletic legend Paul Tergat, he who wore out opponents and shuttered world records at will, is losing sleep over doping allegations stalking Kenyan athletes.
"It is very sad to hear that our athletes are dabbling in doping. It has soiled our country's name and the legacy we struggled to build over a long period of time," he told The Nairobian in an interview.
Tergat who has since hanged his boots, held the world marathon record for five straight years from 2003 to 2007 and won five straight IAAF World Cross Country Championships titles between 1995 and 1999, which was a record.
"In our days, we used to train very hard. It is sad that young athletes today prefer short cuts and it's costing them greatly. I however believe that some of these athletes have been misled into doping."
The Kenyan legend has blamed Athletics Kenya (AK) for sleeping on the job.
"When you have managers who don't care about our athletes, then this becomes a big problem. When they (athletes) feel that no one is listening to them, then they are capable of anything," Tergat told The Nairobian.
"Sports remain one of the best ways to engage our youth. We have so many talented but idle youth who need something to do to keep them busy. If we let athletics to go down the drain, then we are in a lot of trouble. We will have nowhere else to take our youth."
Tergat's other achievement was setting a new course record in the Lisbon Half Marathon in 2000 with a personal best time of 59:06.
He followed this up with five victories in the Saint Silvester Road Race, considered the most important event in Latin America.
Most Kenyans will however remember, Tergat's rivalry with Ethiopia's great, Haile Gebrsellassie. The highlight of the rivalry was in the 10,000 metres race during the 1996 Atlanta Olympics games and the Sydney games four years later.
On both occasions, Tergat lost by a slim margin and retired without winning an Olympic gold medal.
Tergat's marathon career was equally successful. He finished second in the first three marathons he took part in, London Marathon twice in 2001 and 2002 and at the Chicago Marathon in 2002.
But his peak in marathon came in 2003 when he set a new world record of 2:04:55 at the Berlin Marathon. His world record was later broken in 2005 by Samuel Wanjiru, another Kenyan.
In the 2004 Athens Olympics marathon, Tergat missed his water point and drank water supplied by organisers. He is accustomed to drinking water at room temperature; the organisers supplied cold water, which gave Tergat cramps.
He finished 10th.