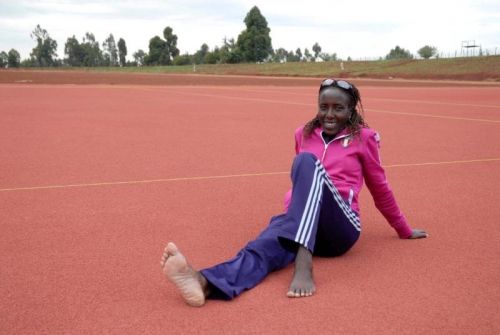 Lornah dismissed the claims that London Marathon Ltd (LML) financed the project as untrue. She explained that LML only contributed Sh10 million, which said is just 10 per cent of the total cost of the project.
The facility is 100 per cent owned by LKSA," she disclosed.
"If the Eldoret (Kipchoge Keino) Stadium, which is a government facility, cost Sh200 million to put up, how could this project cost Sh10 million? How come nobody is questioning the amount of money spent to put up the Eldoret stadium? Can Sh10 million really put up a stadium? It's important for people to get their facts right!" said the Kenyan-born Dutch athlete who is married to Dutchman Pieter Langerhorst.
Langerhorst also denied claims that there was a Memorandum of Understanding between LML and LKSA.
"After completion of the track, we entered into a sponsor agreement with London Marathon. We have to allow athletes training for the London Marathon, both British and Kenyan, to use the track together with their pacemakers on condition that their kits bear the logo of the academy," Langerhorst revealed.
He added that, "London Marathon did not fund the track. They just agreed to sponsor us, which any company is free to do."
Langerhorst further claimed that LKSA is yet to get a response from Athletics Kenya and the Ministry of Sports regarding a proposal they had sent to both on how best to incorporate more athletes in the use of the facility, including secondary school children.
"If local athletes are forced to use the muddy and sub-standard Kamariny Stadium, they should channel their complaints to the government, not us," said Langerhorst. He said tens of local athletes use tartan track every week without paying a coin.
"What if we allow everyone to use the track and at the end of the season it is worn out? It costs Sh10 million to replace two lanes, who will pay for this?" posed Langerhorst.
When asked to comment on her rivalry with the now retired British athlete and former rival Paula Radcliff, Lorna said: "We were rivals on the track, but have remained best of friends off the track. Paula is a great runner and a friend. In fact, I attended her last race before retirement."