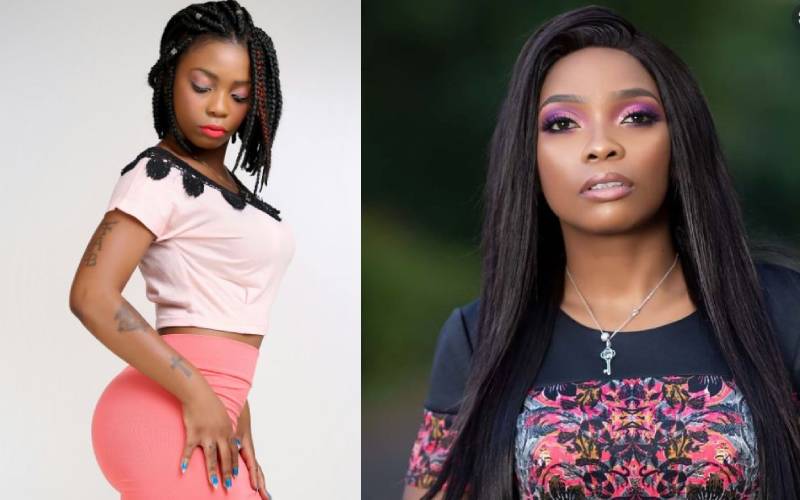 To many of her fans, Pendo is the dramatic no-nonsense character who appeared on a local reality show.
Away from the antagonist character as a reality TV star that saw her pick fights with anyone who crossed her line, socialite Stacy Vugutsa, popularly known as Pendo, took a break from the scene, but she's back like she never left.
Unknown to many, despite her wild character on television, Pendo has a pretty laid back personality and after dropping a handful of singles, she has delivered a contemporary EP, hoping to reach a newer audience.
In her recent EP, Illusion, Pendo brings out her groovy and silky side. The six-track body brings out the multi-disciplinary artiste she is.
"I had to take a break to reflect on my growth and what I really want for myself. I am a changed person from what was portrayed on TV. Basically, a step up the ladder," she says.
"I took a step back from an active social life, did my math and concluded life is just an illusion; combined with a pinch of wisdom, the results are the charm of life and art!"
Illusion, produced by Sofresh, explores sensuality and unlimited imagination.
"The project took me a year and a half to complete and is an anecdote to my fans as inspired by my life," says Pendo.
The musical piece comes a few months after Pendo laid her mother to rest. Her mother succumbed to Covid-19 complications.
"The pain, almost unbearable and hard to consume due to the speedy process in funeral arrangements as recommended by health experts. My mama was my biggest fan, source of inspiration and one of my best friends. It is then I found solace in a recording studio and making music felt therapeutic," she says.
Pendo says even though a greater percentage of the EP is her own input, she enlisted well-known industry players.
"An EP dictates the idea of multiple features. This was my personal growth and a litmus test for my future as a performing artiste. The last track, Chini, a jam talking about undercover love, is the only collaboration I had featuring Nigeria's Kaydexx and DJ Savage (Yung), who is the official DJ for Reekado Banks. I only sourced for help in content writing from Telemahni and singer and producer, Critical for diversity," she says.
Asked about her favourite song in Illusion: "My favourite song is Namwamini, which is in memory of my late mother - she was my greatest supporter. Before her death, she really wanted me to work on something spiritual. A song about belief."
Others include Ting Along, a sensual song about having no strings attached after consensual sex. In Ting Along, Pendo places wonderfully fruity vocals on love against a percussive R&B backdrop.
"Nothing naughty here, just a figurative way of expressing how music makes me feel. That is why it had to be the first track on the list."
If Illusion is anything to go by, then Pendo could easily be on her way to making a mark among other certified female entertainers.
"I have been spending more time in the studio and certainly that has improved my skills as a writer and vocalist," she says.
"My belief is that art is the illusion of spontaneity and where words fail, music speaks. This is for my mama."
Related Topics