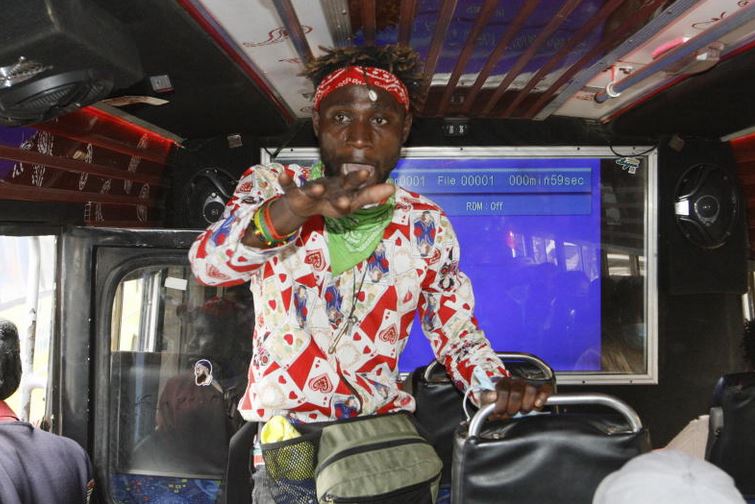 Two years ago, a 19-year-old performing artiste found himself stuck in Nairobi city centre at night, because he did not have fare to take him to Thika where he lived.
He had Sh50 on him while the bus fare was Sh100. Fearing he would spend the night in the streets, the artiste boarded a Thika-bound bus and started working out how he would avoid an altercation with the Kenya Mpya bus crew.
Minutes after the vehicle left the bus park, the young artiste stood up and faced the passengers. He wanted to perform for them, he told them. It was unprecedented; passengers were used to preachers and hawkers but hadn't seen a musician entertain them. When he was done performing, an awe-struck audience accepted his plea to support his music career. He walked up and down the aisle and by the time he returned to his seat, he had collected over Sh1,000 in cash; a 20-shilling coin here and a 50-shilling note there. He paid his Sh100 fare.
Oscar Mizani, born Oscar Mwenda Mbogo, had discovered a platform. A desperate pursuit of money for bus fare had opened a door for him. He started performing in buses plying the Thika-Nairobi route.
At only 22, Mizani's life story reads like fiction. In Form Three, Oscar, who was born in Embu County and was then studying at Kirimari Boys' Secondary School in the same county, had a fall-out with his parents.
They wanted him to finish school and join the police service, but Mizani wanted to pursue a music career. 
"I left school and came to Nairobi to pursue a career in music. It was the third term of Form Three," he says.
But Nairobi, unsurprisingly, offered anything but a soft landing. Mizani slept in the streets for four days before he left for Thika, and into Kiandutu slums. For six months, he worked in construction sites but then the works dissipated and dried out. This went on for days until a desperate Mizani composed poetry and took his spoken word skills to the streets.
"My first audience was three people. I told them I needed money to record my songs and they gave me a few coins. Another group gave me a few more. On and on, getting motivated every step of the way, I accessed bigger audiences," he says.
Within a week of performing on the streets, termini and parks, Mizani recorded his first song, Hustler.
But it was a gig that he was invited for at Ngong that changed his life.
"When the show was over, they told me that they would not pay. Apparently, the opportunity was to market our skills to the world," he said.
Having been expecting a fat cheque, Mizani had not spared even fare for his journey home.
Outside the grounds, he performed to a small crowd and collected Sh130. He paid Sh80 fare to town. Left with Sh50, he needed another Sh50 for fare to Thika. That is how he stood to perform in the bus.
Now, Oscar Mizani is a bus performer, with 12 recorded songs. The artiste, who has three siblings (two brothers and a sister), plans his routes weekly.
One week he will be entertaining passengers along Thika Road, and the next he will be on Waiyaki Way. He will then head to Mombasa Road, or Ngong Road, or Jogoo Road, belting out his hip hop and selling CDs, which he had branded at the start of the year. He left Thika route after audiences got too used to him.
"I make about Sh2,000 in a day. I have to work hard because I have to pay my bills. Sometimes, I will meet the same people in the bus that I had yesterday, so my dressing code also has to keep changing also," he says.
His parents have since accepted that he was made to be an artiste.
"They see me on TV, hear me on radio. Society loves me, so my parents feel that I am doing the right thing," he says. Sometimes, drivers rudely dismiss him, and other times finds passengers who want silence on their trips but still he is undeterred. This group he wins over with his lyrical prowess. After all, man must earn.
Mizani, having spent time on the streets performing at bus termini, says that he is famous with the street children. One of his main prayers is that he will be rich, or influential, enough to help them.
"There is a lot of talent in the streets. And even if there wasn't, these people should be helped to live better lives," he says, appealing to the government, and well-wishers, to help street families get off the streets, which would reduce crime, he says.
On his YouTube page, named Oscar Mizani, he advocates for people to treat everyone with dignity.
"People have to do what they have to, even odd jobs to survive. The have-nots today will be the haves tomorrow," he says.