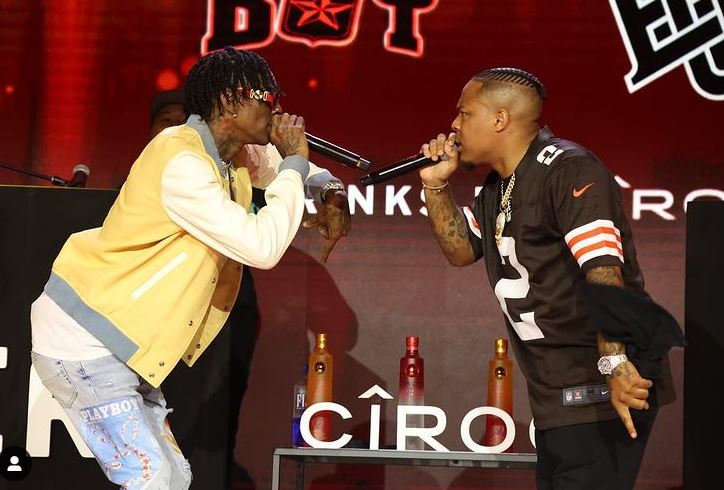 Last night, another if not the most entertaining Versuz battle took place, peaking at just over 600K virtual attendance, and the crowd was back in the flesh. The battle of the 2000 legends, Soulja Boy and Bow Wow, lived up to the hype, and here are some nuggets we picked from the clash.
 1. Both are iconic hit-makers
 The amount of hit songs both the stars have accumulated is immensely large. Bow Wow, being the child star he is, even with his meek voice, had a catalog of early successful songs with the likes of Destiny's Child and Snoop Dogg, easily soaring to the helm of the charts. He would get signed to illustrious and critically acclaimed record producer Jermaine Dupri's So So Def music company and be part of a cultural music stable that was home to other legends such as Jagged Edge and more. Bow went on to dominate early 2000's music. On the other hand, Soulja has had multiple Top 10 hits as a recording and performing artist with songs like Kiss Me Thru The Phone (9th Highest selling song in 2009). His song Crank Dat also peaked at No.3 on the Billboard Hot 100. He is a decorated music producer tailoring records like 'We Made It' for Drake.
 2. They are both multi-talented entertainers
As Bow pivoted into acting on movies such as Like Mike paving the way for rappers to exercise their on-screen abilities, Soulja has also been a platinum-selling music producer and an accomplished businessman. Soulja has his own gaming console, has a likeable personality, packs dark humor, and is immeasurably confident. At the same time, Bow has also grown as a show presenter on BET's 106 & Park and starred in numerous movies.
 3. Longevity is the name of the game
 It's okay to be the in-thing, the current trend, the hottest topic, but after all that dies out, what will you be remembered for? Both these stars had songs that were time-markers for people's lives and can literally act as nostalgic commemorations for where we were at certain times in our lives. To date, they are still relevant, continuing a run of excellence with desirable consistency.
 4. It's important to branch out
The Versuz gave us a window to know and connect with the two entertainers in a way other platforms would not necessarily allow us to. Soulja has ventured into the gaming business, has his strand of weed, and a lemonade company to diversify his investment portfolio. Shad Moss, aka Bow, has been able to sell merchandise, team up with Ciroc to give exclusive activations with the liquor brand, and licenses his music for different purposes.
 5. It's important to frontier and not follow the trend
In the end, being a leader is always better than being a follower. In typical Soulja hysteria, "I was the first to ..." Lol. At teen-hood, Shad was already a man. His charisma and bravado led him to be the first child star in Hip Hop pioneering that lane. Then came Lil Romeo, and others have followed in their footsteps; hence it's key to be a trail-blazer. Soulja, on the other hand, followed his instinct. When the music industry status quo was crunk music, Soulja brought his own eccentricity into hip hop with his' ringtone music'. That lane has paved the way for today's generation of music, with Soulja's quirky one-liners, viral ready stances, and gaudy fashion sense, which is highly consumable and parodied by today's Gen Z rappers - he was already cool before the internet. Lay the blueprint, don't let it lay you.
 6. Collaboration is key
 No man is an island. Both artists had an undertone of working with other people from the string of hits both pulled out. They have made impactful careers, and a lot of what they have accomplished on a high level has to do with the works they created with the help of others. Whether it's in music, business, film, publishing, a lot of their success has included teamwork and efforts by other people with a common interest to achieve a mutual goal. In music, Soulja has worked with Drake, Migos, Nicki Minaj, Gucci Mane, Trey So Chief Keef, Sean Kingston, and others, just to name a few. Meanwhile, Bow can boast of pushing the needle with Beyoncé, Snoop Dogg, Omarion, R-Kelly, Mike Jones, Ciara, and many other icons, including Michael Jordan, as he made an era cool with his R&B rap fusions.