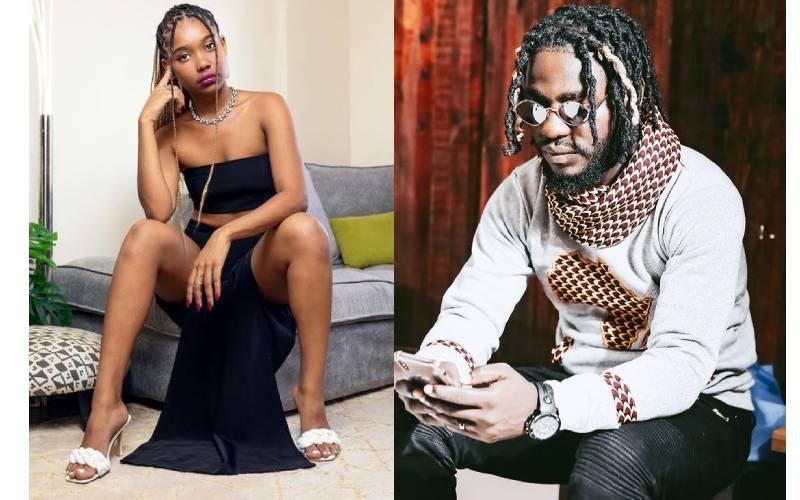 Sauti Sol's record label Sol Generation has given a statement on the recent allegations made by YouTuber Elodie Zone against their signee Nviiri the Story Teller.
The record label stated that they were currently investigating the accusations made by Elodie, adding that they do not tolerate any form of mental, physical, and emotional abuse.
"The recent events and allegations surrounding Nviiri the Story Teller and Elodie are of great concern to us. Over the last 48 hours we have been working frantically to understand and investigate these events. The sensitivity of this matter should not be understated, and as such we have been treating this matter with the utmost privacy and humanity," read part of the statement.
Sol Generation said they have been actively working to enhance Nviiri's mental wellness as part of their D.O.P.E culture and will continue to do so.
In addition, the record label said both Elodie and Nviiri, who are currently at the coast, will go through wellness sessions with a specialist once they come back to Nairobi.
"We believe offering a helping hand in these times is paramount. Lastly, as a business, we shall be undertaking a Progressive Portrayal training."
Official Statement on the matter concerning Nviiri the Storyteller and Elodie Zone. pic.twitter.com/Dn27uB3weE

— Sol Generation (@solgeneration_) June 9, 2021
On Monday, the YouTuber, 24, stated she was no longer dating Nviiri and even opened up about the physical abuse she went through in her past relationships.
"I've hidden bruises from my past two relationships. I've felt stupid and have been undermined. I've been told to keep quiet. I've been told to stop speaking up on social media cause I'll look like I'm "acting out." I've been told that depression means you overact... etc… all are total nonsense. I want men and women in my position to raise their voices! We may be small but our voices cannot be silenced," said Elodie.
However, on Wednesday morning, Elodie retracted the accusations she made against the singer, saying the posts were fueled by tension and alcohol.
"Nviiri and I came to coast with our friends to unwind, relax and make peace with each other. When I made my post it was fueled by tension and an afternoon of a few too many drinks. Neither of us thought it would be blown out of proportion the way it has been, Blogging sites and bloggers have also begun to spread misinformation and this is affecting our careers and family life," wrote Elodie.
The YouTuber even asked her fans not to hate on Nviiri and herself because of the accusations and even apologized for painting the wrong picture.
Related Topics