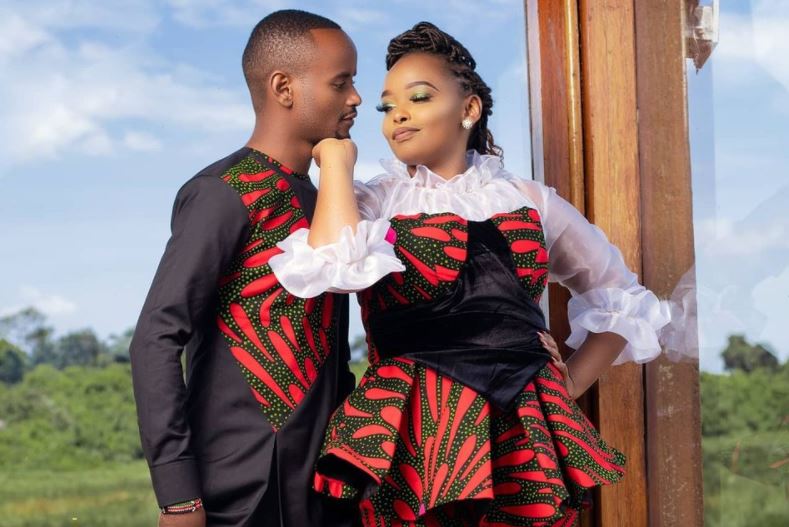 As the world hyped and celebrated Mother's day, a section of Kenyan celebrities joined in to appreciate their loved ones; from their mothers to their partners and others themselves, for earning the title 'mother.'
Janet Mbugua's sister-in-law, Tabitha Ndichu, was over the moon to celebrate her first mother's day after struggling to conceive for close to four years due to her fibroids condition.
Giving thanks to God in a lengthy Instagram post, Tabitha dedicated her son to God, promising to lead him in the right way of Christ.
"It's my first Mother's Day and I am #grateful, my heart is bursting at its seams. God trusted that I could steward his child, my son a role I have never taken lightly! One day I will stand in heaven and give an account of every word, deed, Season etc that involved raising my son/my son's life! I pray I get to hear the resounding voice; "Well done, my good and faithful servant" That's the goal really!
"To raise a boy full of integrity which is hard to come around nowadays! I want to teach my son that integrity may not get you liked but it will get you far! And yes, since this child belongs to God I am taking guidance and instructions on how to raise him from God! My job is to ensure whatever God brought him on earth to do is accomplished! Period!" she wrote.
Remembering women waiting on God to bless them with a child, Tabitha urged them to wait for the Lord's perfect timing as He will come through for them as He did for her.  
"To every waiting womb, God still remains the one who "sees" nothing is too hard or impossible for him! I am thinking of you and sending you all the love... Happy Mother's Day to all mums out here, mothers in waiting, angel moms…"
Kabi Wajesus
Despite the ongoing backlash he faces on social media following his revelation of siring a child with his cousin, Kabi WaJesus has continued to prove that his love for his wife is undying and growing stronger.
Celebrating his wife, the father of two posted a video of Milly hours before the delivery of their son Taji appreciating her for her strength and dedication when it comes to raising their child.
"I'll never forget this day, I will forever treasure this moment. It changed the way I viewed you and every woman out here. It gave me a new perspective of life and a new meaning of the word Mother. For me mother means strength, it means power, it means care, it means sacrifice, protection and most importantly unconditional love @millywajesus happy mother's day my queen, me and @tajiwajesus celebrate you today," he wrote.
Vesha Okello
Popular singer, Akothee's daughters, Vesha and Rue, were not left behind as they too took to their respective social media pages to appreciate their mother for her sacrifices and love that made them who they are.
"My sweet mother is a woman like no other. She gave me life, nurtured me, taught me, dressed me, fought for me, held me, shouted at me, kissed me, but most importantly she loved me unconditionally. @akotheekenya. There are not enough words to describe just how important you are to me and what a powerful influence you continue to be. @akotheekenya , I Love You and happy Mother's day," wrote Vesha.  
"Life doesn't come with a manual, it comes with a mother. To my best friend and best buddy. You have always been there for me providing for me when I need it and don't. You are the best gift I could ever ask for. I appreciate you mum so much. Happy mother's day," added Rue.
Although Mother's day is mainly associated with love and appreciation, not everyone is lucky to smile during this time. Music producer Tedd Josiah is among those that constantly hurt when it comes to celebrating mother's day. This is because his wife, Reginah Katar, died suddenly, leaving him to care for their young daughter.
In his post, the Joka Jok handbag founder recalled having to transition from being a father to taking up a mother's responsibility to his 3-month-old daughter Wendo, a shift he explains he was not ready for.
Tedd dedicated his mother's day message to those with moms and babies in heaven, individuals still trying to be moms, and those that are having a challenging relationship with their moms.
"Every mother wants to be there for their children until their children are very very grown, no mother wants to leave their child as an infant because they know the child won't get motherly love. To all those whose moms are in heaven, to those whose babies are in heaven, those who are still trying to be moms, those who are having a tough relationship with their moms, those who are praying to be moms, and those who are moms...
"I value you because I have walked a mile in your shoes and though my life plan had never been to become a Mother to a 3 month old, I had no option but to become the mother. The journey of motherhood isn't easy but the little hugs are the rewards. Blessed Mother's Day to you all from the bears. Happy Mother's Day in heaven mama JayJay keep resting in peace."