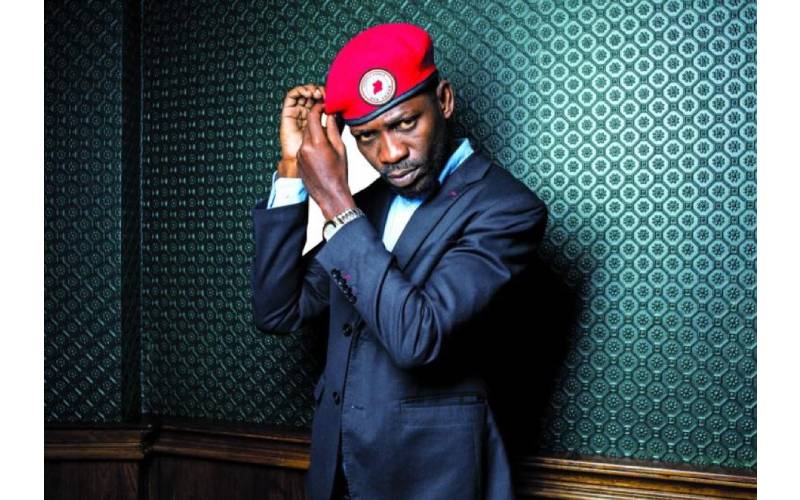 Bobi Wine, Uganda's pop star turn politician, has opened up to the New York Times on his struggles to fight for freedom. In the interview, the 39-year-old star revealed that it gets lonelier and draining to keep up with the challenges he continuously faces.
He admitted that, in most cases, he is left psychologically and physically exhausted.
"It drains you when you do the right thing," he said. 
Mr. Wine, whose real name is Robert Kyagulanyi, termed his presidential bid a huge success as it achieved its primary objective of turning the world's attention to President Museveni's oppressive government.
"We are glad that he did this in the full glare of the world, unlike ever before. The world is watching," he said.
Asked whether he is considering going back to the studio, the father of four revealed that after the elections and the campaigns, he gathered a lot, and will soon record a track that would capture all of his thoughts.
"I have had to learn to proceed even when my friends are held back," he said. "And the next time I am offered a louder microphone, which is the studio microphone, I will express exactly what's on my mind."
His sentiments come barely a week after the Uganda Revenue Authority (URA) ordered him to return his bulletproof car for a fresh tax re-verification. 
The directive follows a recent ruling of the High Court in Kampala in which a judge dismissed Mr Kyagulanyi's application that sought to block tax re-evaluation of the vehicle.
"Further reference is made to our earlier communication to your client Hon Kyagulanyi Ssentamu Robert to voluntarily deliver motor vehicle, Toyota Land Cruiser, UBJ 667F to URA for re-evaluation exercise," read the URA letter addressed to Bobi Wine's lawyers at Wameli and Company Advocates.
Just a month ago, Wine unveiled the armoured vehicle saying it was a gift to him purchased by well-wishers. He announced that the brand-new black Toyota SUV, estimated to cost more than Sh15million, was donated by his supporters after running a campaign to acquire the high-end bulletproof car.
"There is another group of comrades who kick-started a fundraising campaign for a bulletproof vehicle. These comrades informed me of their plan, but I thought it was an uphill task, given how expensive it is," he wrote.