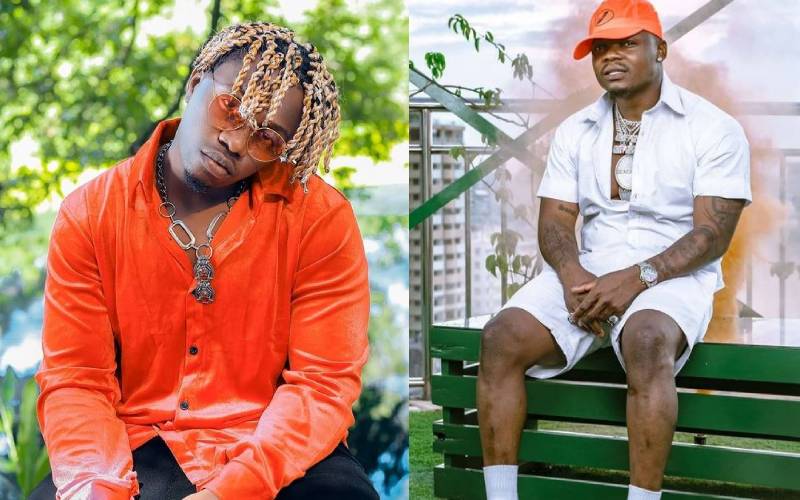 Tanzanian Music star Rayvanny has called out his fellow artist Harmonize for allegedly sending explicit nude photos to Paula Kajala, daughter of his ex-girlfriend Frida Kajala Masanja in attempts to seduce her. 
In a lengthy Instagram post exposing Harmonize, Rayvanny termed Harmonize's move towards Paula as an act of disrespect to himself (Harmonize) and society.
He added that it's shameful for the Konde Gang President to want to sleep with both the mother (Kajala) and her daughter (Paula).
"Dunia inamaajabu yake lakini sijawahi ona mtu wa ajabu kama wewe my bro @harmonize_tz Ni binadamu wa aina gani wewe ambae unataka kua na mama na mtoto pia tena kwa nguvu zote na unatuma hadi utupu wako bila hata kuogopa nafasi ulionayo kwenye jamii kujidhalilisha kua kama ulivyozaliwa na angali wewe ni kioo cha jamii (The world has it's wonders but I have never seen a person like my brother Harmonize. What kind of a person are you to want to be with a mother and then her daughter to the extent of sharing your nude photos without being afraid of the position you hold in the society?)" wrote Rayvanny in part.
In the post, the Next Level Music CEO expressed his disappointment at Harmonize, claiming that when he (Rayvanny) was alleged to be in a relationship with the said Paula, Harmonize was at the forefront to oust him for dating a minor.
"Ni roho ya ajabu sana ulionayo yani KILA NIKIKUWAZA SIPATI JIBU NDUGU YANGU. Ulikua unawapigia simu viongozi mbalimbali juu ya swala langu mimi sasa nawaza leo hii utawaangaliaje?? Wewe ni balozi wa kampuni na zimekupa heshima kama balozi sasa nawaza unapata wapi ujasiri wa kutuma utupu wako ni kampuni gani inakubali fedheha hii na je wanakuonaje kwa kitendo hiki ulichokifanya kinachodhalilisha wanawake hasa mama? (It is a very strange spirit that you have. That is, I can't comprehend it. You were calling various leaders about my issue; what will you now tell them? You are a brand ambassador of different brands, and they have given you the honor of being an ambassador now, I wonder where you get the courage to send your nudes. Which company accepts this disgrace, and how do they see you for this act you have done that humiliates women, especially mothers?)" he continued.
He advised Harmonize to seek forgiveness, especially from mothers, for what he termed disrespectful to women in their society.
"Ushauri wangu: omba radhi kwa wazazi na kina mama nikiwa na maana wanawake ambao ni mama zetu wanastahili heshima sio kudhalilishwa kama ulivyo fanya wewe na unaigiza kama hakijatokea kitu.... Ukiheshimiwa basi jiheshimu (My advice: Apologize to parents and mothers, I mean women who are our mothers deserve respect, not humiliation like you did, and you act like nothing has happened. If you are respected, then respect yourself)" he added.