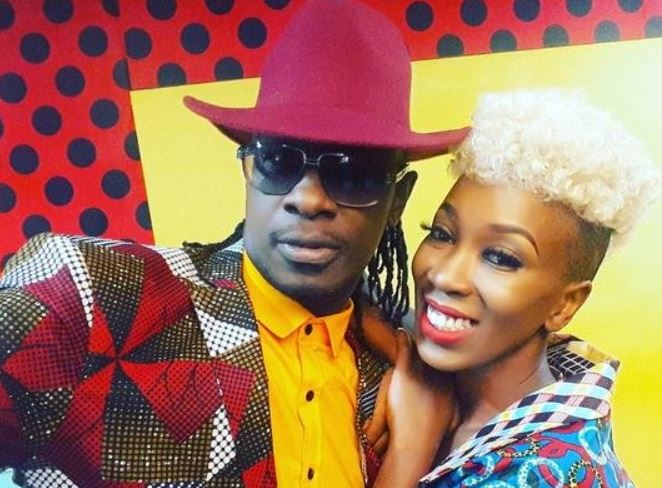 Celebrity couple Nameless and Wahu have been in the music industry for over 20 years but never once worked together, be it through collaborations or music video features.
The closest the couple has come to working together was on their latest release, 'This Love,' where they merged their storyline and brought on board Sauti sol's Bien -Aime Baraza and his wife Chiki Onwekwe as vixens.
The veteran singer, however, feels it is about time they changed this reality. Expressing his desire to work with his wife via Instagram, Nameless pledged to use Wahu as his video vixen in his upcoming music project.
According to the Nasinzia crooner, whenever he suggests the idea of them working together, Wahu always comes up with the excuse that she is saved and no longer makes worldly songs.
"Imagine 20years in the industry, doing love songs, it's about time this one agrees to be my video vixen... Stories of oooh I'm born-again, ooh these are worldly songs, oh oh I don't want to hear," he wrote.
Touching on her collabo with her husband during a previous interview with radio presenter Mwende Macharia on Radio Maisha, Wahu explained that they hadn't sat down because they have different management.
"To be honest everyone has their own people. I have my own people and so does he. What I mean is each one of us have different management and have never come together to release songs till now," said Wahu.
Backsliding 
After the release of her song This Love, Wahu was put on the spot by critics that accused her of abandoning salvation and diving back into the secular world for choosing to sing a love song.
Addressing the backsliding claims, Wahu stated that she is still a gospel singer who sometimes feels like singing about love.
Depending on how she feels, the mother of two explained that she would either sing gospel songs or love songs.
"I have always been born again. What happened in 2016 is that I rededicated my life. Meaning I just decided, let me now be more intentional bout my journey as a Christian, getting to know truly what the Bible is, and just being more intentional. That's what happened.
"I'm still here with my Jesus. If people see the song and start assuming that I am back sliding, it's okay. Anybody can think whatever, I don't really care much but for me I'm all about creating positive content, happy content. I have seen people asking what is going on and I'm like you know what, I still love Jesus, I want to sing about love, sometimes I want to do worship, sometime I want to sing about love…. I mean I have been married for 15 years wouldn't it be wrong for me to sing about my journey?" she said.
The singer, however, admitted that despite the backlash, she is unshaken and content with her music and the direction it is taking.