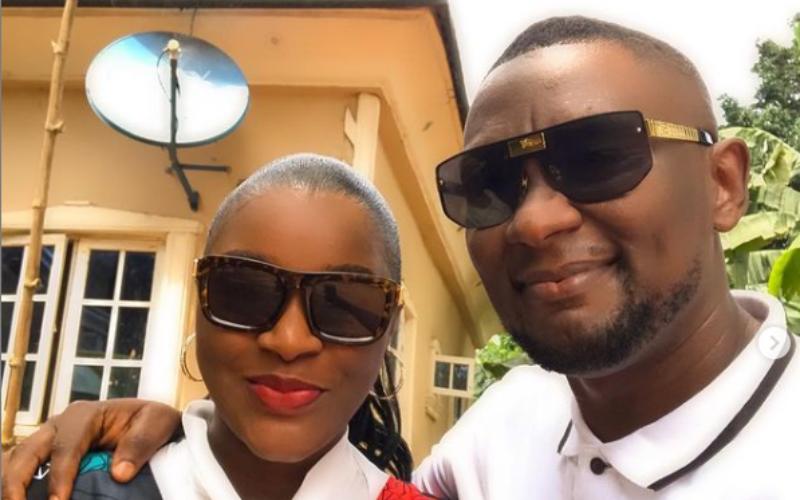 Celebrated Nollywood actress Chacha Eke has now retracted her statement that her marriage to fellow thespian and film director Austin Ikechuchu is over.
In a video shared on her Instagram page earlier this month, The End is Near actress announced an end to her seven-year marriage, penning "I am done".
"You will say I am crazy but I am not. This video is to let the world know that I am done with the marriage. I don't have a lot to prove that I am done with him but I am done. I'm done. I am leaving - with - my life finally. I can't say a lot now. You will hear my story," she posted.
But come yesterday, March 18, the mother of three celebrated her husband's birthday and retracted her previous stance that the two are no longer an item – as she had alluded in the now-deleted video.   
"Five days ago I made a video saying that my marriage to Austin Faani is over and that video came with a lot of backlash from people with many insinuating that it is a clear case of domestic violence. It is not. Austin has never laid his hands on me. He has never even raised his voice at me and God in heaven knows that's the truth," Eke posted.
"Several psychiatrists have come to assess me mentally and I have been diagnosed with Bipolar disorder. Bipolar is real. Here in Africa, we tend to not know about it due to ignore or overlook it," she added, seemingly justifying that she was not in her right mind when she posted news of the break-up.
Eke, who is the daughter of Ebonyi State Commissioner of Education, Professor John Eke, is known to share her personal life on social media. The Ebonyi State University B. Sc degree in Accountancy holder has featured in numerous Nollywood movies among them Bitter Heart, Shame to Bad People, Girls at War, Royal First Lady and Beyond Beauty.
She is also a CEO behind her own fashion brand Print-Afrique Fashion Ltd.