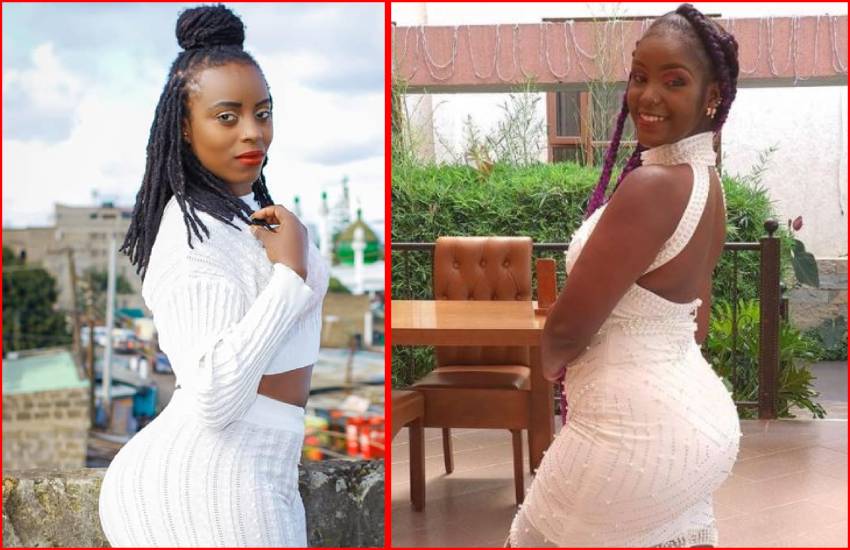 Her recent photoshoot stirred the Internet, and Manzi Wa Kibera proudly says her body count is 250 plus. Standard Entertainment & Lifestyle chats with 27-year old Sharrifa Wambui about Shakilla, Eric Omondi and giving Diamond some ghetto love.
Pulse: You seem not to like Shakilla at all. Are you jealous of her fame or is it just you creating buzz for yourself?
Wambox: I'm not jealous, but I am disappointed in her because I hosted her in 2019 when she was chased from home by her father but she disappointed me.
P: So you guys were friends at some point…
W: We grew up together in Kibera. She was a neighbour, but we only became friends later in life. I hosted her in my home, but she took my tycoon sponsor who is based abroad. 
Read Also: Shakilla - I own a house in Westlands, never dated a Kenyan man
P: Some would say you are using her to get famous. I mean, you've been around, but she just appeared out of the blues and became talk of town…
W: I won't gain anything from a person who she lies all the time. How do you own a house when you are in high school? She is in high school somewhere here in Kibra. And she is not 19! Can we talk about Diamond?
P: What about Diamond? You also hosted him at your place or he is the sponsor Shakila stole from you?
W: (Laughs) I have had a huge crush on him since 2011 when he sang Kamwambie. I want him for myself. I would like to get his baby. His songs are my ringtone and he does things to me.
 P: Have you tried to contact him maybe, like send him DMs?
W: I have sent him three messages on Instagram. He has not replied. But I would like to be sponsored to travel to Tanzania to go meet him. I want to give him my all as a Kikuyu woman and to represent all Kenyan women. We will have nice kids with nice features, but with a ghetto vibe.
P: You seem very sure of what you want from him. Do you think you are his type?
W: I am the real deal, forget Tanasha. Diamond should come and try me. I'm the real package and I have a real, thick a**… not those fake ones some people are carrying around here. He should not be scared of my body count, which is more than 250 because I am ready to change for him.
Read Also: Patricia - Diamond Platnumz's rumoured girlfriend speaks
P: Your photoshoots are very edgy. And the latest ones can't be published in a newspaper. What pushes you to do such shoots? Instagram likes?
W: I am doing it for the married guys out there who are struggling. I am giving them something to think about and make them happy. We know many married guys are unhappy. So, I am helping them. Look, it was an issue with my family when I started out, but I am a big girl and they are now at peace with it.
P: And so what exactly are you? Video vixen, Shakilla hater or nudist model?
W: I have done over 10 songs as a vixen and I sell clothes online. I have a manager who negotiates my video appearances and I am ready for any kind of shoot with any artiste, Diamond or Davido. So you figure it out what I am.
P: Oh, you even have a manager?
W: Of course I do! I'm a big brand bana. I charge between Sh30,000 and Sh70,000 to appear in a video.
P: There was a time last year that you had a white lover. What happened to him?
W: I am currently single. Diamond anasumbuliwa sana out there by other women. I'll treat him right. I'll give him the proper ghetto vibe.
P: You are consistently inconsistent. Today you talk about Diamond, tomorrow is Willy Paul, the next day it's Eric Omondi…
W: I would like Eric Omondi to consider me for his show. I am a better actor and a better wife than Shakilla. Tell Eric to call me.
Read Also: 'Wife Material' cost me sponsors, reveals Eric Omondi