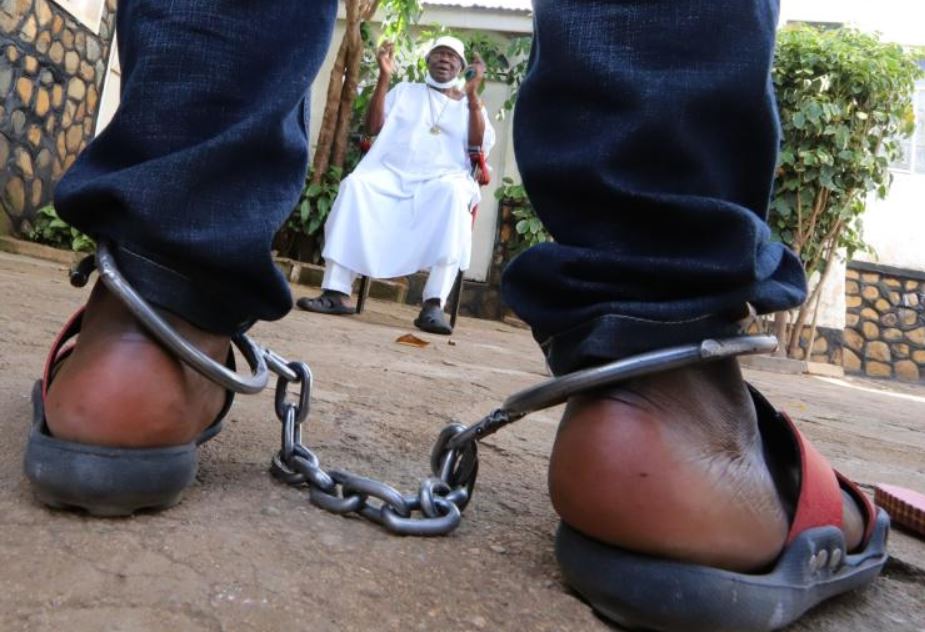 An eerie silence welcomes you to Coptic Holy Ghost Church along Kisumu-Kakamega road near Mamboleo. At least 60 people with different mental illnesses are within the church's compound. Serious cases are isolated and locked up in individual rooms. The people the pastor, Father John Pesa, thinks have mild cases are put in groups.
Those who are recovering are allowed to wander around the compound, but with shackles on their feet. For the past six decades, he has handled thousands of such patients, and some, he says, are healed.
"Many of the patients are brought here as the last resort. They have visited hospitals, witchdoctors and all the healing centres with no results," he says.
At the facility, Father Pesa introduces a 29-year-old man who has been to three hospitals, five rehabilitation centres and a correctional centre.  He dropped out of school in Nairobi in 2009 after slipping into drugs. He found himself at Coptic Church Mission early last year, and he says he is making progress.
ALSO READ: Who are the Mormons? A look into Eldoret church shrouded in mystery
Walked Naked
Next to him is the 41-year-old son of a university lecturer. He has been at the centre for three years. He has struggled with mental illness for many years. It forced him to leave his job in Nairobi when his star was just beginning to shine. He hopes his stay in the church will cure his condition.
The oldest beneficiary of Father Pes's healing prayers is a 62-year-old who was admitted at the centre between in 1983. After recovery, he joined the church, and is now one of the ministers at the centre in Uholo, Siaya County.
"Had it not been for Baba (Father Pesa), I wouldn't have married," he says.
A walk around the compound reveals more patients. The number has been growing as more people seek solutions for mental illnesses, and depression.
"When you hear cases of people killing their parents, spouses and children, then you know it is getting out of hand," he says.
"Some of these issues are caused by evil spirits from the past sins, and which cannot be dealt with by medical intervention alone."
ALSO READ: Panic hits Kiambu church after Mugumo tree grows on the rooftop
He introduces a 25-year-old from Uyoma, Siaya County, who was brought to the facility eight months ago after attacking his mother with a spade. Villagers wanted to lynch him but discovered things were not right after he undressed and started jumping and celebrating 'his win' when the mother was down and motionless. He had previously walked naked, threw his phone in water and abandoned employment.
"Today see how neat he is," says Pesa as he sends the young man to go to a nearby shop.
According to Father Pesa, most of his patients are referrals from people who have witnessed his healing powers. He does not charge for his prayers.
There are over 30 rooms in the compound for patients and their guardians. When a patient is brought to the facility, their guardians are taken through rules and regulations, before they sign a consent form.
He prays for them twice a day – morning and evening – at an open space within the compound. He says he values the place of medical intervention and ensures patients adhere to medication for conditions like malaria and HIV and Aids.
 "Even the Bible which tells of the stories of how God healed through prayers has soft spot for scientific medical intervention," he says.