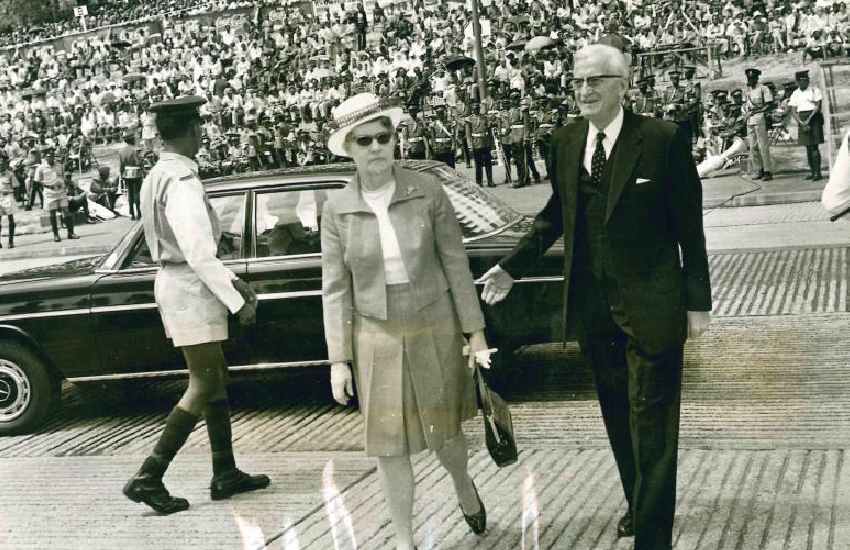 Chief Justice Kenneth O'Connor, the fifth CJ in 1954, is best remembered for sentencing freedom fighter Dedan Kimathi to death at the height of the Mau Mau insurgency in 1957!
Sir James Ainley, the seventh CJ, was Kenya's first after independence in 1963, and is remembered for handling Kenya's first political assassination when Pio Gama Pinto was killed in Parklands Nairobi in 1964. Ainley handed Kisilu Mutua a death sentence later commuted to life. Kisilu was released 35 years later after investigative journalist Kamau Ngotho exposed how Kisilu was fixed in high voltage coverup.
Arthur Dennis Farrel could have been the ninth CJ, but was sacked as acting CJ on the same day in 1968 he reduced to six months, freedom hero Bildad Kaggia's one year sentence on appeal after being found guilty of holding a political meeting minus a license!
Read Also: Kissing whites was illegal in Kenya but Argwings-Kodhek married one
The Oxford-educated Kitili Mwendwa was Kenya's youngest - and first African - Chief Justice at 39. Kitili, who had 'Office of the Most Learned Permanent Secretary' on his door at the Ministry of Home Affairs, resigned as CJ after accusations of being party to a military plot to overthrow President Kenyatta I in 1971. The owner of Quick Bus Service and lover of vintage cars gassed at high speeds died from a road accident in September 1985. From Kitili, it took another 30 years before an African was appointed CJ!
Sir James Wicks, Kitili's successor, was the longest-serving at 11 years to 1982. Did you know the judicial spat in the Supreme Court over retirement age, began with Sir Wicks? Besides the late Minister Paul Ngei, Sir Wicks nicknamed 'Njonjo Boy' (after AG Charles Njonjo) is the only other Kenyan for whom the Constitution was personally changed- three times!
When Sir Wicks reached 68, the law was changed and retirement age pegged at 70 then 72 and finally 74! Wicks appointed his step-son, Allan Hancox, as High Court Judge. Hancox served as Kenya's 15th CJ, and like his step-dad, played to the political gallery from 1989 to 1993.
The soft-spoken Sir Alfred Simpson, the 12th CJ was a tightwad best remembered for introducing private criminal prosecution for Kenyans besides annoying colleagues via scrutinizing work ticket for judge's cars to skirt misuse of funds!
CB Madan despite serving for only a year to 1986, is said to have been the best judge, and the best ever Chief Justice. Besides brilliant judgments in poetic prose, the 13th CJ weeded out corruption and kept Executive kept to its lane. Cecil Miller, the 14th, interfered with cases in which the State had an interest, and when the government removed the tenure of office for judges and the CJ, Miller played ball!
Read Also: Meet Kenya's Chief Justice who was born in Guyana and buried at Moi's bridge
The Spartan Abdul Majid Cocker, the only CJ to have ever published his memoirs, Doings, Non-doings and Mis-doings of Kenyan Chief Justices, drove his Peugeot 504 saloon car to his South C home having dispensed with the official residence of the CJ plus security detail outside office hours!
Related Topics