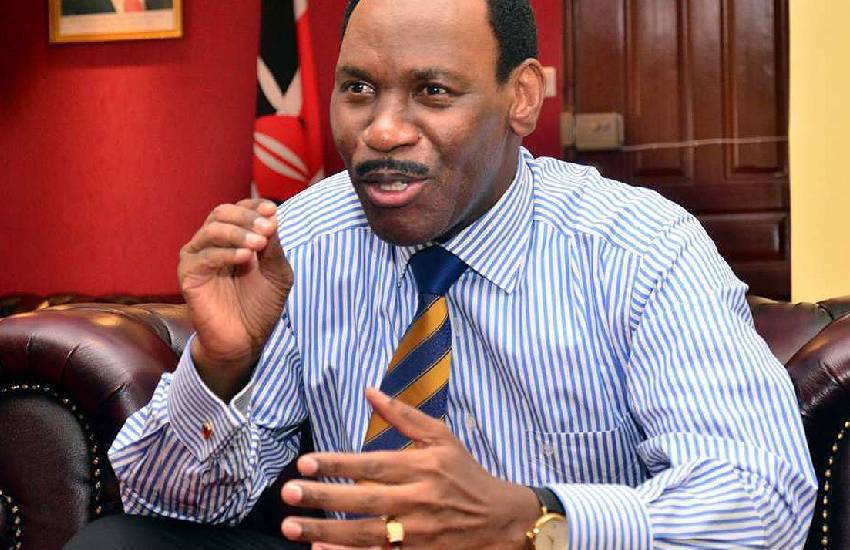 Kenya Film Classification Board (KFCB) CEO Dr Ezekiel Mutua is not pleased with Lupita Nyong'o's 'sarcastic' response to Najib Balala's explanation that she was inaccessible for five years resulting in the appointment of supermodel Naomi Campbell as Magical Kenya's international brand ambassador.
In a tweet seen by Standard Entertainment & Lifestyle, Dr Mutua said the Academy Award winner should have reached out, and appropriately engaged with the Tourism Cabinet Secretary. "I think the sarcasm in Lupita's response to CS Balala is totally inappropriate. She should have picked her phone and just say "Waziri, I am here. I am ready to serve my country." Being a global icon should come with some loyalty to your country and respect for elders!"
Read Also: Lupita laughs off CS Balala's claims she could not be reached in 5 years
Sentiments whose sparks started flying January 22 when Nyong'o fired back at Balala after he defended his ministry following criticism over the supermodel's appointment. Speaking at Kenyatta University last week, Balala stressed that Lupita was not overlooked for the role.
"I know everybody is asking why not Lupita. Lupita has commitments and her managers cannot allow us to access her. We've spent the last five years looking for Lupita… We have a framework to work around her and she (Campbell) accepted to do it for free. She offered herself because of her love and commitment to Kenya. We are now working on the details on how to use her promote the destination. We can have one of our own, and we already have Eliud Kipchoge. We are targeting specific markets and sectors, so we will identify brand ambassadors because of that. We use Kipchoge to market Kenya because of his vast international networks," said Balala.
An explanation Lupita laughed off Friday, terming it as 'alternative facts'. "Me when I hear the Kenyan Ministry of Tourism has been looking for me for five years. #Imrightherebaby #alternativefacts," she captioned a picture of her heartily laughing, adding that, "Niko Wakanda."
Weighing in on the saga, gospel singer Kambua opined that had Nyong'o been appointed, critics would still have found a reason to discredit the actress. "Perhaps Lupita was not keen on taking the job? Also, saying Balala should have called her dad makes me wonder...is she 12? She's a grown woman, well able to decide what calls to take. Pia...if she'd taken this job there'd still have been things to say to discredit her, no?" Kambua stated.
Read Also: Naomi Campbell to become Magical Kenya International Tourism Ambassador
For media personality Caroline Mutoko, criticism of the ministry's decision was hypocritical" "When South Africa was looking for icons for Kenya, to sell their products, they picked Sauti Sol, you did not (complain) about that and you did not see Sauti sol lament either. Are we so ignorant we don't get it? Then why do we display our ignorance so boldly and loudly and then coat it with a little bit of bile and arrogance to boot? Why?"