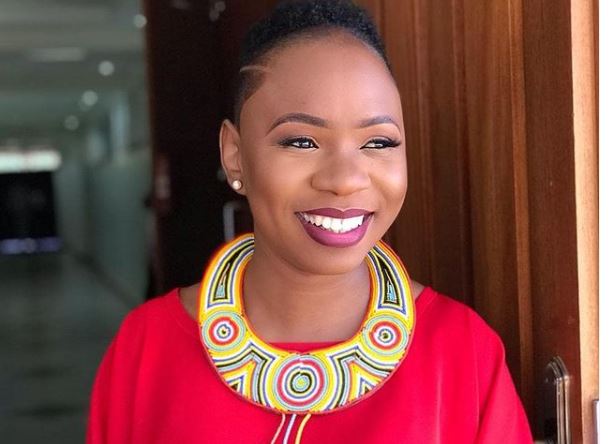 Celebrated gospel singer Evelyn Wanjiru Agundabweni has a word of advice to her fans as they set new goals and plans for the new year. According to the worship leader, who also doubles up as a music director and songwriter, you should be extremely careful about telling your plans.
Taking to her social media platforms, the 31-year-old singer revealed that the popular reason people fail is that they talk too much. She advised that mastering the art of zipping it up will have people achieve their goals.
"Be careful whom you tell your plans this year. We fail because we talk too much... Zip it darling not every ear should hear," she wrote in part.
Sharing a beautiful photo of her and hubby Agundabweni Akweyu, Evelyne further advised that at times people might outrightly mislead in the name of offering counsel. According to her, not every counsel is good, and therefore people should set their workable goals with their partners and let God do the rest.
ALSO READ: God will give me children in his own time -singer Evelyn Wanjiru
"Not every counsel is good…Set your workable goals with your partner and do your assignment, allowing God to be the center of it all. Ok? wise advice from my McM," she added.
Her advice comes barely months after she revealed her firm belief that there is more to marriage than sex and having children. This was after pressure from society to have children since she has been married for at least eight years, and she has never had any.
The talented songstress further added that she was at peace with her marriage, and her husband has been very supportive. According to her, people need to find and marry spouses who believe in their vision and willing to walk side by side with them towards achieving them.
"Marry someone who can carry the weight and burden of your vision. Marriage is beyond sex and bearing children. It's disastrous to marry someone who doesn't show any interest in what you're called to do. As you are falling in love with him, he should also fall in love with their calling, profession passion and vision," she said.
ALSO READ: 'Mungu Pekee' singer Evelyn Wanjiru speaks on hope of having a child
However, the 'Mungu mkuu' hitmaker remains optimistic that she will have children of her own one day. Evelyn made this known a while back when she congratulated her fellow gospel artiste Kambua who broke the internet after revealing she was expecting her first child seven years after getting married.
"Fun fact is that Kambua and I had our weddings on the same day, 7th of April, and that gives me hope, and when I see that God has remembered her, I have faith that my blessings are on the way. I am so happy for her and extremely excited because that gives me hope," she said.