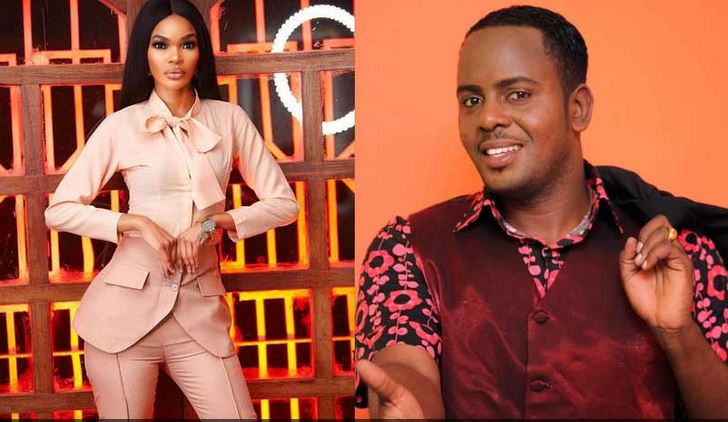 Popular Tanzanian actress cum businesswoman Wema Sepetu was overwhelmed with emotions during her show, Cook with Wema Sepetu. This is after late Steven Kanumba's mother, Flora Mutegoa, confirmed her son's alleged curse on her. According to Flora, Kanumba's daunting words to Wema were brought about by the former Miss Tanzania's decision to abort two of Kanumba's pregnancies secretly.
"What you are telling me is true, he talked to me about. He said, 'Let her look for a rich man and try bear children in vain, maybe if she comes back to me and even then it might be too late,'" said Kanumba's mother.
Opening up about her past relationship with Kanumba, Wema recalled her ex furiously telling her that she wouldn't be able to have kids again after she procured two abortions.
"You woman you owe me children, and because of that you will never be able to have any more with any other man," she recalled.
ALSO READ: Model Wema Sepetu reveals why she is desperate to have a baby
In her defense, Wema explained that she was too young to have children at the time, and even if she decided to keep the pregnancy, she would disappoint her parents and cripple her acting career.
"I want to be very honest, I haven't aborted any more than two pregnancies of the late Steven Kanumba. The reason I did it was because I was afraid of my parents. I was wondering how I would start explaining myself to them.
"Even I wish to be called a mother, and honestly, there is nothing as painful as being told you will never have children. You think I wouldn't want to have my lookalike when God decides to take me from this world? I would love to take pictures with my child. I have wanted that with all my life, but I can't!" she said.
Wema revealed that she suffers from Polycystic Ovarian Disease (PCOD), a hormonal disorder whose symptoms are associated with enlarged ovaries containing multiple small cysts that prevent the ovaries from fertilizing.
"Let me be open today so that people can know this, I am suffering from a disease, which causes my eggs (ovaries) to rapture and thus cannot be fertilized," said Wema.
ALSO READ: Steven Kanumba 'cursed' my womb after aborting twice- Wema Sepetu
Kanumba's mother reacts
When news of Wema's past actions reached Kanumba's mother, Flora was shocked beyond words. Speaking during a previous interview with Global Publishers, the actor's mother requested Wema to make time and see her so that they can talk about what had happened and come up with a solution.
"I was so shocked by the news even the hairs at the back of my neck stood up. I desire to speak to Wema Sepetu. The good thing is that she has admitted that she aborted my son's pregnancies. That has really hurt me, but I really wish she could come see me. There's actually something I want to tell her and I love her because she is a good daughter in-law," said Flora.