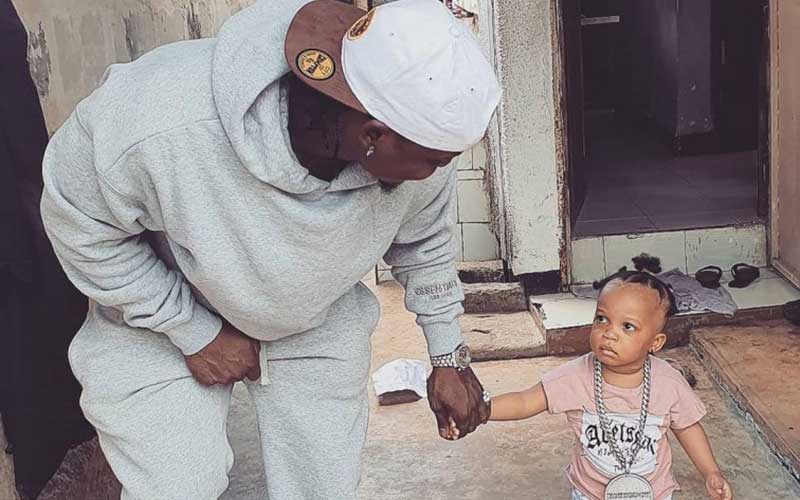 Tanzanian superstar Rajab Abdul better alias Harmonize is officially a single man. The Konde Music Worldwide CEO on January 6, 2021 shared a post on his Instagram stories confirming his break up with wife Sarah Michelotti a month after she accused him of being two-faced.  In the post, Harmonize disclosed that he is now officially single and looking forward to spending more time with his daughter, Zureha Nasra.
"Starting single life today! Officially just me and @zuuh_Konde 2021, let me see," he wrote.
READ ALSO: Harmonize, wife Sarah Michelotti split? Manager responds
Secret child
Sometime in December 2020, Harmonize revealed that he had sired a child out of wedlock and had been hiding her for fear of breaking his marriage. Pouring out his heart in a lengthy Instagram post, the UNO crooner apologized to his daughter for abandoning and denying her.
"I'm so sorry my princess for not being proud of you for 1 year and 7 months. Also forgive me for not making time to come and see you where you are to ensure you are doing well or if you have any issue for fear of breaking a relationship I value so much," read part of Harmonize's post.
Sarah was however quick to burst Harmonize's bubble with the claim that Zureha was not his child. The Italian beauty shared pictures of an alleged paternity test that showed Harmonize was not the girl's biological father.
"People are really desperate, you've done a DNA test twice on the baby and the results came back negative, showing that you're not the father. But since you've failed to father a child of your own you are now claiming someone else's baby," she wrote.
It was after this that Sarah decided to part ways with the singer citing disrespect and lack of appreciation.
READ ALSO: Harmonize opens up about his past relationship with Wolper
"I married you because I loved you. You we're everything to me and I chose you just the way you were. I gave you all my love and I did my best for your happiness something that you didn't do for me at all. Day by day I found you were completely different and you don't have any respect for anybody…
"You didn't even know how to keep a wife like me or to be proud of one person who give you the good life and you don't know how to respect people who really do love you and the ones who are there to support you. Most of the time I found out that you are just a lie and fake it. I've been through a lot in this fake relationship x married. If I put all here everyone will be shocked because you have another face completely. You always put a mask on your face," wrote Sarah in part.
She went on to accuse him of not making any effort to try and make their relationship work despite her pleas.
"I don't even have more words to say and speak now. You didn't ever appreciate what I did for you and now is too late. Life will teach you the lesson you deserve for what you did and now I will be focusing on my life ... be blessed now u have all the time to be with any women on the way and I advise you, learn to appreciate and respect what people do for you," she added.