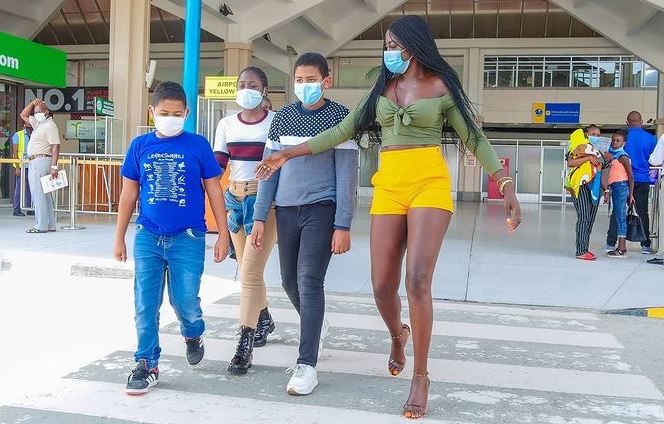 Popular Kenyan singer Esther Akoth alias Akothee has reunited with her three lastborn children after a year of being apart. Documenting their emotional reunion on social media, the joyful mother of five admitted that she had previously tried to fly her kids into the country from France. However, her lastborn son's father refused to release the kids because of the increasing Coronavirus cases in Kenya.
Despite the disappointment of not being with her children sooner, the self-proclaimed president of single mothers appreciated her baby daddy for always supporting her and her children.
"God has a way of doing things. I broke down several times when Papa Oyoo said his kids can't come to Kenya because it's too risky. I couldn't imagine me locked down in France with the dark grey cold weather leaving my sweet Africa weather. I have everything to enjoy with my kids here in Africa, I don't even want anybody's money. From hotels to safaris to family to Salome. So I just woke up and sent him sweet email, accompanied with flight tickets and boom, my darling released my uterus, Mpenzi thank you very much for always supporting me and the kids.
ALSO READ: Akothee unable to reunite with young ones after France announces second lockdown
"Nothing feels good like a full house, full of love and entertainment. Oyoo is heavy I can hardly lift him, I went to bed alone and woke up alone with no one to talk to. At some point I thought life was unfair. it's lonely at the top. Welcome my penguins," she wrote.
However, fed up with the hot Kenyan weather, Akothee's last born son demanded to be flown back to France as he prefers the weather there. Oyoo has already dumped the team. He is on his own, and he has threatened to go back to France.
'Kenya is too hot I can't deal! I want to go back to France,' he already called his dad to pick him up from the airport," she said.
About a month ago, Akothee shared her frustrations of not attending her son Ojwang's baptism in France due to the second wave of Coronavirus that saw the country go into a second lockdown.
ALSO READ: Why Akothee distanced herself from adopted son Shadrack Mwita
"Today my Son Ojwang is getting baptized, Water has finally taken its own course, Catholic moriere. I stopped fighting over which denomination my child goes to as long as he is raised in a church environment. I am late and I missed this big occasion due to Covid-19 restrictions, but hey thank God for co-parenting, papa and dad will represent me. However, a mother's presence on their children's big occasions can never be filled by anyone.
She appreciated her son's father to foster a good co-parenting relationship over time, which has enabled them to raise their kids cordially.
"I am loving the co-parenting between me and my baby daddy's @princeojwang @oyootheprince. Fighting the battles of co-parenting stay strong if you are raising children in a broken family. Love you papa oyoo and papa ojwang. May God keep you for me," she wrote.