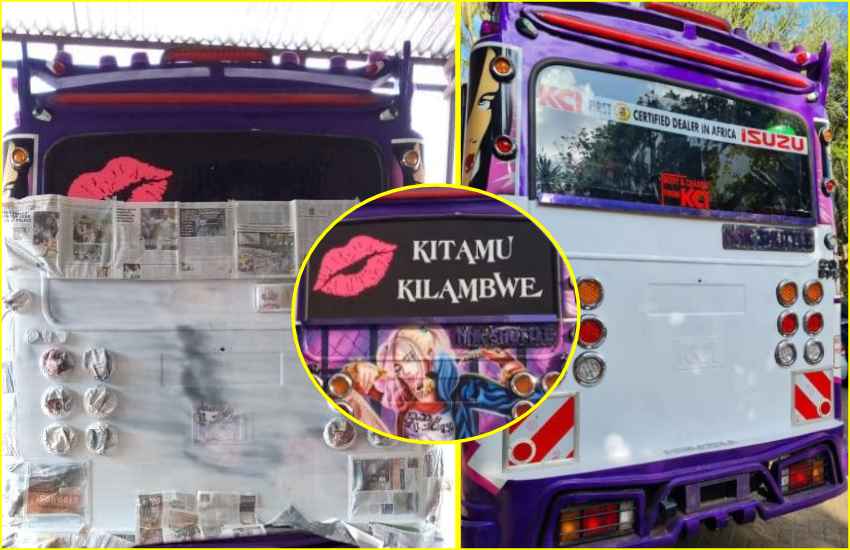 Kenya Film Classification Board (KFCB) CEO Dr Ezekiel Mutua has lauded the National Transport and Safety Authority (NTSA) for impounding a matatu emblazoned with 'sexualized and offensive' graffiti for outraging public decency.
Read Also:Prison Break actor 'T-Bag' recognises Kitengela matatu
In a statement, Mutua said NTSA acted quickly after it was notified of the matatu's obscene décor which went against content regulation guidelines for Public Service Vehicles (PSVs). "We have been authoritatively informed by NTSA that the matatu that was reported to us as having sexualized and offensive graffiti has been impounded and the number plates taken off as the Authority follows up the legal procedures to curb the indecent behaviour," stated Mutua on Facebook.
In a warning to other PSV operators, Mutua said the board is not against Matatu Culture's thriving informal sector enterprise, but will not tolerate rogue elements who promote lewdness and gross indecency. "I want to thank the NTSA through its Director-General, Mr George Njao, for the swift action and support. Any PSV with inappropriate content through graffiti or music videos is hereby warned to immediately remove such content and comply with our content regulation guidelines for public service vehicles. Our Regional officers across the country are working with the NTSA and police to curb the distribution of unrated content and unpalatable graffiti in PSVs," he warned.
Read Also: My first artwork was crap – Matatu Graffiti artiste Moha
Adding: "We appreciate the creativity of our youth, but we urge them to respect public decency and be responsible for the kind of messages they communicate to the public, including through graffiti on PSVs. To this end, the Board will collaborate with NTSA to enhance public awareness campaigns and support the law-abiding PSV operators. We are also working with DJs to compose content that is rated for public consumption in PSVs."
Speaking in February 2020 during the launch of a crackdown on PSVs fitted with TV screens, Mutua urged members of the public to report operators playing or displaying foul content and reiterated his call that matatu operators must have graffiti vetted by the board and obtain relevant licences to exhibit film or play music. 
"The stories of agony told by passengers in PSVs are very disturbing. The display, exhibition or playing of pornographic content, loud music and foul language used on passengers presents an image of a public transport sector gone rogue. Some matatus have become cinema theatres for offensive content and are destroying the youths, especially students. Some students leave home and roam around in these vehicles the whole day," stated Mutua.
Read Also: Employment opportunities for youths in the matatu industry
"Every content aired in PSVs has to be rated General Exhibition (GE)… not showcase nudity or obscenity. From tomorrow all corners of the country will have police in place to crack down the uncompliant vehicles. We appeal to members of the public to report the above by giving the number plate, route of the matatu, the SACCO and if possible evidence of the clip that was aired…you will be treated with confidentiality and protected by KFCB."