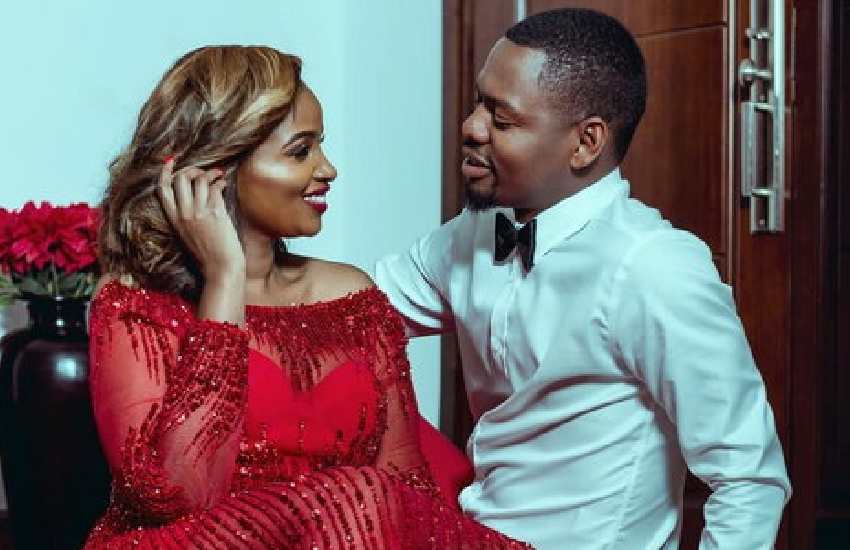 Keroche Breweries heiress Anerlisa Muigai is not a big fan of her husband's new song, Hiyo Ndio Mbaya.  Taking to social media to voice her opinion, Anerlisa described the video to Ben Pol's song as the most ratchet ever.
"A lot of people have been asking me what I think of Ben's New Video "Hiyo Ndio Mbaya". Honestly I feel it's the most ratchet video ever!!" she wrote. Bewildered, some netizens were, however, were having none of it and accused her of using the 'dislike tactic' to generate a buzz among fans. The video, as of November 29, 2020 boasts over 90,000 views.
The move comes days after the Moyo Mashine crooner turned heads after posing with coloured, well-manicured nails. Although the singer did not say much about his nails in the post, a section of his followers opined he was also promoting Hiyo Ndio Mbaya which premiered on November 20, 2020. "Men are not allowed by the Islamic religion to polish their nails," wrote another unimpressed fan.
Read Also: Most Kenyan men would love to trap me- Anerlisa Muigai reveals
Others, however, encouraged the singer to do what makes him happy even if it included painting his nails. "Do what makes you happy," wrote one user. 
Converting to Islam
Ben Pol announced his conversion to Islam about a month ago on social media, happily sharing his newly acquired Islam certificates with his fans. "Bismillah-ir-Rahman-ir-Rahim," posted the singer who will now go by the name Behnam Paul Mnyang'anga.
His decision to convert however came as a surprise to many even his mother who explained that she had no idea Ben Pol wanted to change his faith. Speaking during a previous interview with Ijumaa Wikienda, she revealed that she was yet to speak to her son. "I'm also confused because I only recently saw the photo on social media. I'm shocked but I haven't spoken to him yet; I'll look for him so he can tell me what he's decided on," she said.
Rocky relationship
Prior to his big decision to change his faith, Ben Pol's wife disclosed that all was not well in their household. Opening up on her Instastories, the Nero Water CEO stated that she and her husband had fallen out.
"Somebody called asking if I was aware that "my husband" was live talking things she couldn't understand, she even sent me screenshots. Unfortunately, I never got to watch but just to make it clear that we are not in good terms. I am a person who likes to protect my image and all I know is that I like being respected and any husband should do the same to their wife," she said.
Read Also: Guard your heart with a double-edged sword, says Anerlisa Muigai
The couple seems to have since ironed out their differences after Anerlisa shared a video of them together enjoying each other's company.