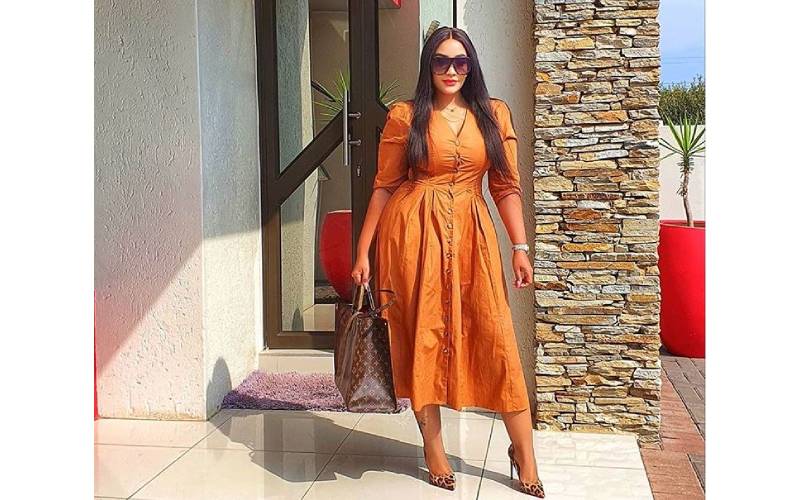 South African based Ugandan businesswoman Zari Hassan has shared the secret to her rapid weight loss, roughly a month after being trolled for adding so much weight. Flaunting her toned body on her social media page, Zari, who was accused of editing her picture to look slim, refuted the claim stating that she had indeed lost the weight she had gained during quarantine. The mother of five attributed her rapid weight loss to a cleansing regime after getting back from Tanzania.
"I hear some people are so mad asking 'how could she have lost so much weight in just ten days after leaving Tanzania.' Cleansing has been working for me. I'm not eating proper meals. I'm just eating leafy things. If you think I'm out here editing my picture with my Bentley honey, you are wrong!" she wrote.
Speaking in a previous Instagram video, Zari explained that she had dangerously added weight after being in lockdown for over five months with nothing to do.
"Have you forgotten we had been on lockdown for five months? We'd eat and sleep. No going out, every two seconds we'd just open the fridge, cook and eat. I have dangerously added weight," said Zari.
ALSO READ: PHOTOS- How Zari Hassan turned 40 in style
Zari's weight gain became an online discussion after she was photographed during her visit to Tanzanian when she escorted her kids to see their father, Bongo star Diamond Platnumz. Despite adding weight, Zari affirmed that she was not insecure about how she looked; therefore, people should not use her weight to bring her down.
"I used to work out but saa hizi kuna watu wanaumwa eti Zari Kanenepa, it's so easy to put on weight, and it easy for me to lose the weight. Sasa hapo ulipo kama unaumwa because of my weight sijui. I'm the one who is putting on the weight, you are the one who is having a headache or the pain. I don't understand how? When people are skinny, they have HIV, they are stressing an all that, but when people are fat, ooh she is so ugly, shapeless or whatever. I am beautiful in my own skin whether am skinny or fat. And me being beautiful is not just about my size, lot of things contribute to me being beautiful. So let people be, who they wanna be if am putting on weight am gonna work on it," she added.
ALSO READ: Zari can cook unlike Diamond's other exes who fed him junk, says Esma
Mending ties
Giving a deaf ear to netizens' opinions on her looks, Zari admitted that she enjoyed her stay in Tanzania and was pleased that Diamond was once again back in his kids' lives.
"He gets to see the kids and be in their life and support them emotionally and financially. So as a parent, I am also happy he is back in their lives. Getting back together for love, it has never crossed my mind and I do not even think about it," said Zari during a previous interview with Wasafi TV