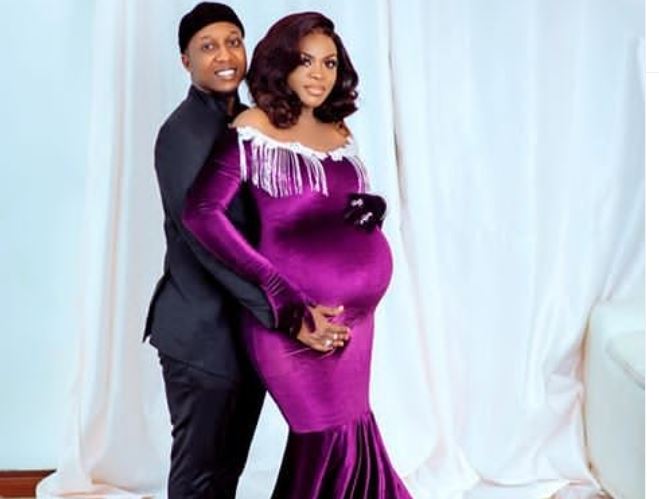 Tanzanian singer Mwanajuma Abdul Juma alias Queen Darleen has heaped praises on her father, Mzee Abdul Juma, for connecting her with her husband Isihaka Mtoro. Opening up on her Instagram page, Queen Darleen disclosed that if it were not for her father, Isihaka wouldn't have met her, and for that, she is extremely grateful.
"My assured confidant, without you Mzee Abdul Baba B @isihack wouldn't have known me #malkiabalqis #balqis40," shared the singer.
The Wasafi Classic Baby (WCB) signee's admission came during her daughter's 40 days Muslim celebration party, where they unveiled their child's face to the public for the first time. Sharing the beautiful day with her fans on social media, the excited first-time mom posted numerous pictures of her adorable little girl. She also thanked all her family members and friends that have been sharing in her journey.
"Alhamdulillah! Malkia Balqis Isihaka Mtoro," she wrote.
ALSO READ: Queen Darleen says her co-wife has blocked her on social media
Relationship
The Kijuso singer and her husband tied the knot in December 2019 in a star-studded wedding ceremony surrounded by close friends and family after secretly dating for a little over a year.  Before making their relationship public, Queen Darleen revealed in a previous interview that she was not interested in a relationship or getting married as it was not her thing. 
However, after her wedding, the Bongo star became a victim of trolling on social media for agreeing to get married as the second wife. Speaking about Queen Darleen's decision, her father explained that he was delighted despite being married as the second wife.
"You know marriage is a very difficult thing. I am happy for her and people should be too. I never thought she would be married because of her music but here she is. She is just fine, I am wondering why people are making noise about her being married as a second wife. In Islam, there is nothing like one wife, a man can have as many as four," said Mzee Abdul.
To many people's surprise, Queen Darleen and her husband had been married for a while before they decided to share the news on social media.
ALSO READ: Stop seducing my husband, Queen Darleen warns smitten fans
"Ni kweli nimeolewa na nashukuru mweneyzi mungu amenijaalia. Ndoa sio lazima uweke mitandaoni ndo ionekane umeolewa, ndoa zilianza hata kabla ya mitandao kwa hiyo nimefanya mimi na mume wangu, pamoja na familia yangu kwa hiyo haina haja kuthihirishia umma kuwa nimeolewa. Kibubwa nimshukuru mungu mambo yameenda salama. Na kupost hayo ni maamuzi yangu mwenye," she said.
However, after going public with the news, the singer revealed that different women reached out to her husband, asking him to marry them. Others even sent him nude pictures to get his attention.
"When I started posting my husband on social media, people started 'DMing him'. So my advice is, if you have to inbox him, please stop sending nude photos. I go through his DM and I reply them. They are so stubborn but if he wants he can marry even four wives," she said.