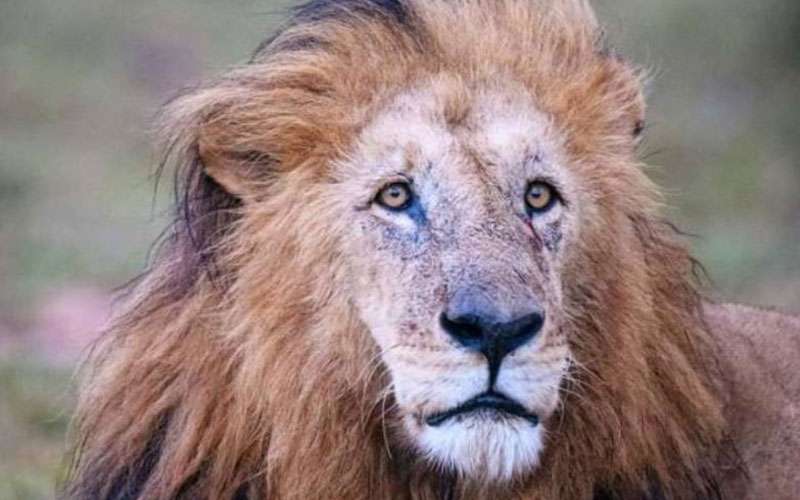 Maasai Mara Game Reserve has announced that Olorpapit, the oldest lion in Kenya has died. According to the park's management, Olorpapit died of natural causes with the body being discovered by a tour driver on the edges of his vast territory. The Chief Park Warden James Sindiyo disclosed that the 'King' had been weak for the past few years and his situation had worsened when he was attacked by younger lions a few weeks ago.
"It's true we are celebrating the life of the iconic lion Olorpapit who has been ruling the Enkuiyani pride for the past 16 years. It died of old age on Wednesday evening at Olare Motorogi Conservancy. It was a celebrity lion that was a darling to tourists," he said.
READ ALSO: American singer Madonna at the Maasai Mara
In August, the lion's condition attracted the attention of park management and it was treated and monitored closely by rangers. Olorpapit was eulogised by several conservationists, including hundreds of international tourists and wild cat lovers who had interacted with the lion.
"Who remembers Lolparpit, the king of Masai Mara and one of the oldest male lions in the Mara? He is no more. This mighty guy was named "Lolparpit" which means Big Hair.  We will surely miss his actions and shows," a tweet read.
The Park Warden described the iconic lion as the most dominant male together with his younger brother Orbanoti who is estimated to be around 14 years old. The lion's death comes barely a year after Kenya lost one of Africa's last remaining giant "tusker" elephants identified as Big Tim who died aged 50 in Mada area of Amboseli National Park from natural causes.
READ ALSO: Excitement as albino zebra is spotted in Masai Mara
The giant bull who roamed the wilderness of Amboseli National Park belonged to an impressive lineage that produces enormous tusks. Post-mortem results showed that Tim died from a twisted gut and the only marks on his body were the imprints left by his companion who presumably tried to lift the great tusker back on his feet. Tim's death equally sent shock waves across the globe as he was adored by thousands of conservationists.
"It's remarkable that Tim had gotten to that age, given that each day he faced just about every threat possible to his species. Within his first few years of life, he lost three of his relatives to suspected poaching incidents, followed by his mother Trista, who was speared to death in 1978 by poachers when he (Tim) was only 8 years old. And there was worse, Tim continued to lose more family members as time passed, including his much-loved sister Tallulah, ruthlessly speared in 2003,″ stated Big Life Foundation, a non-profit conservation organisation focused on preserving the wildlife and habitats of the Amboseli-Tsavo-Kilimanjaro ecosystem.