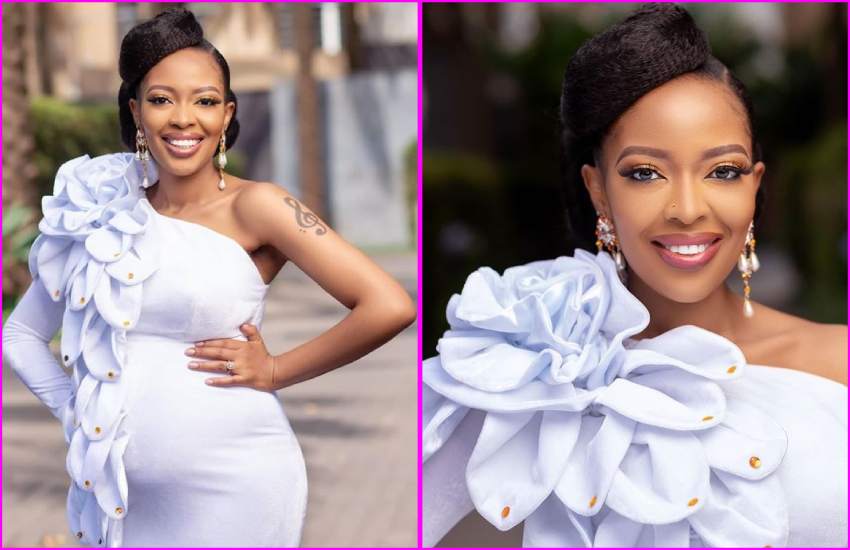 Celebrated gospel singer-songwriter and TV host Kambua has another baby on the way!
Treating fans to the first photo of her baby bump as she shared the pregnancy update via Instagram on October 16 2020, the Bado Nasimama star looked sensational in an elegant one-shoulder dress with her hand on her stomach as she flashed a huge smile. She captioned: "God of Sarah... God of Hannah...God of Kambua! Just when I thought you had done too much! You did it again!"
Read Also:Gospel singer Kambua opens up on postpartum alopecia
The pregnancy marks the second child for Kambua and husband Pastor Jackson Mathu, who welcomed their first child, a baby boy - Nathaniel Muhoro Mathu - in 2019 after struggling to have a child for seven years. Opening up about her first pregnancy in 2019, the chanteuse let it slip that she wanted more children in a moving message to Mathu, where she noted that he was firm in love and conviction despite the seven years of ridicule. 
"When God gave me you, He knew exactly what I needed. You have loved me, defended, and protected me. You spoke life to me even when curses & insults were piled on me. There's not a day in our (nearly 8) years of marriage that you made me feel less of a woman for not bearing children. You constantly reminded me that I am your companion, and I am enough. But you also reminded me that God promised to fill our quiver, and I now watch in awe as He has begun to fulfil His promise. To many more years Baba Muhoro. Father of my beautiful child (ren)! To many more," wrote the Nishikilie hitmaker of her love for Pastor Mathu.
In a follow-up post, Kambua described Nathaniel as a miracle and revealed that she went through 'gut-wrenching pain and tears'. "I've been around long enough and been through enough to know that pregnancy journeys are not perfect- far from it. They are messy, hope-filled, scary, joyful, and just very... complicated. I also know that for waiting wombs, pregnancy announcements can be serious triggers. I have lived it- how you just want to be so happy for others but somehow your own grief and struggle overwhelms you," she wrote.
The singer went on to encourage those who are childless not to despair. "For any woman whose pain was triggered by my announcement, I have prayed that God will turn your darkness into a spark of hope. I pray that your faith is renewed in knowing that His power knows no bounds. I pray that you find yourself whole in Him. Motherhood does not complete us; God does. Motherhood is a great calling, but it's not the only calling."
Read Also:My ex-boyfriend publicly humiliated me - Gospel singer Kambua
To all first-time mothers, the singer assured that they all have all it takes. "I salute every mother who's been on this journey. For staying on course amidst the challenges. And for not giving up. And to every new mummy like me, who is navigating this path with a big L sign "kurutu"- you are doing just fine. You have all it takes to nurture that little one. And when you need to lean in and ask for help, please do!"