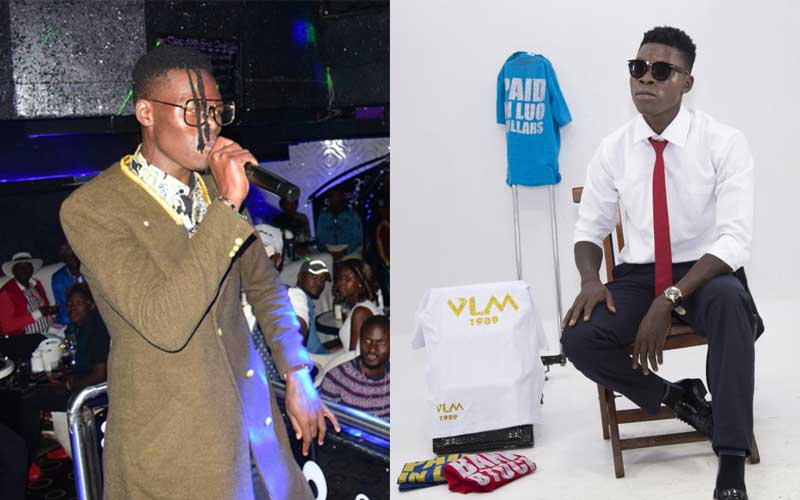 Vicmass Luodollar, famed for his Bank Otuch hit has called upon the Kenyan music industry players to accord Gengetone musicians respect. Speaking to Standard Entertainment & Lifestyle, Vicmass said that before Ethic Entertainment started the Gengetone upheaval with Lamba Lolo, the airwaves were dominated by Nigerian music.
"I'm not a fan of Gengetone music but the genre should be respected as it saved Kenyan music. Before Gengetone, Nigerian music dominated the airwaves and you wouldn't even notice when Kenyan artists released their music. Even though I can't sit down and listen to Gengetone, I am happy about the change the music brought to the industry- give them the respect they deserve," said Vicmass. He further urged those managing Gengetone musicians not to exploit their talent and instead guide them so that they can benefit from their work through royalties, even 10 years down the line.
READ ALSO: Luo rap is life, I find it therapeutic – Vicmass Luodollar
'Why Not'
On September 14, Vicmass released the visuals for a new song dubbed Why Not. Done in Dholuo, the song was produced by Vicmass' long-term producer Major Static of Static Records alongside Martin MG of MG Studios. According to the artist, the song was inspired by the urge to stay true to oneself.
"I was just having fun recording the song which pushes for not seeking approval from anyone; even if you have Sh10, be proud of who you are. I don't want to be like anyone else and I'm not trying to fit in; my sound is unique."
COVID-19
The singer also admitted that COVID-19 has impacted his craft saying, "I believe the pandemic has affected everyone, myself included. For instance, I was to travel to London in July for Kenya and Friends in the Park London concert but it was cancelled."
READ ALSO: I'm not poor - Former street urchin and Vicmass Luodollar
Vicmass was also scheduled to travel back to London on July 22 after winning an award at the African Music & Fashion Festival (AMFF) for his contribution to the arts in Africa. However, despite the odds, Vicmass continues to make money saying "it's easy for me to sell merchandise because of my popularity. The lockdown, which saw the closure of bars and clubs also led to an increase in streaming as people seek to access their favourite music from the comfort of their homes. I'm always recording music hence, sina stress ya ku release new music as my next project will prove."