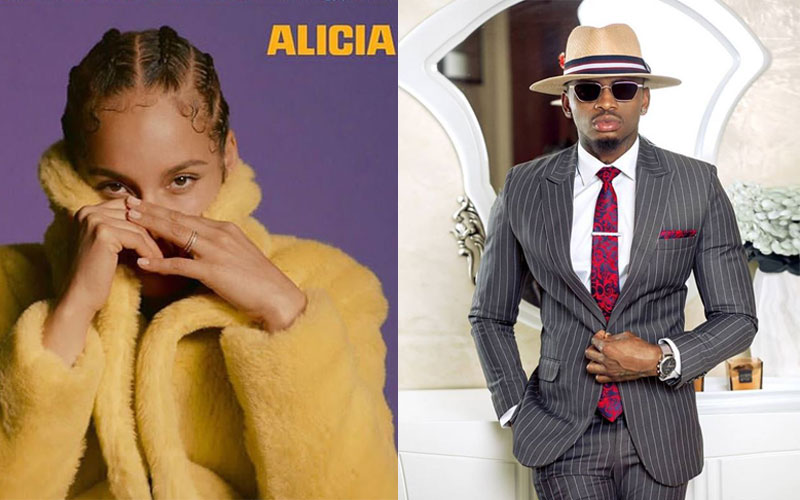 Diamond's fans have expressed displeasure after 15-time Grammy Awards winner Alicia Keys gave the superstar 26 seconds on her Album ALICIA. Diamond had hinted about this collaboration on his social media accounts, building anticipation among fans.
 "ZONE!! ZONE!! With the KING…he makes me feel like am in Tanzania now…I feel like LA is my second home already," Diamond posted on Instagram alongside pictures of his studio session with Swizz Beats in May. The news about the collaboration was later confirmed by World Music Manager at the Grammy Academy, Marlon Fuentes who congratulated the singer.
READ ALSO: Alicia Keys pays emotional tribute to Kobe Bryant at Grammy Awards hours after fatal crash
"Respect to SIMBA – of the biggest artists in the world by way of Tanzania! He'll be joining the @recordingacademy soon to represent the sound and culture of today and tomorrow. The day after we took this photo, he gave an incredible show to a loving audience here in LA. The man is humble for commanding the attention of millions of fans and his work and willingness to collaborate is so real. A day before this he was in the studio with Swizz Beats and @aliciakeys. Wishing him the very best."
The album which was released on September 18, 2020, had the WCB President featured on track four titled "Wasted Energy" where he sings in Swahili. However, the singer featured for 26 seconds, an aspect that angered a section of fans. Many argued that the "Jeje" hit-maker should have been allocated a few more seconds on the album to show the world why he is regarded as the Lion from East Africa.
READ ALSO: Omarion performs at Diamond's album launch in Nairobi
In February this year, the father of four was the most viewed artist in East Africa on YouTube. Diamond scooped the top ten positions of the most viewed songs on YouTube. Top on the list was Yope Remix in which Diamond was featured by Innoss B, from Congo. The song currently has over 100 million views on the visual platform, breaking the record in East Africa. Diamond is also the second most followed artiste in Africa with three million subscribers on YouTube.