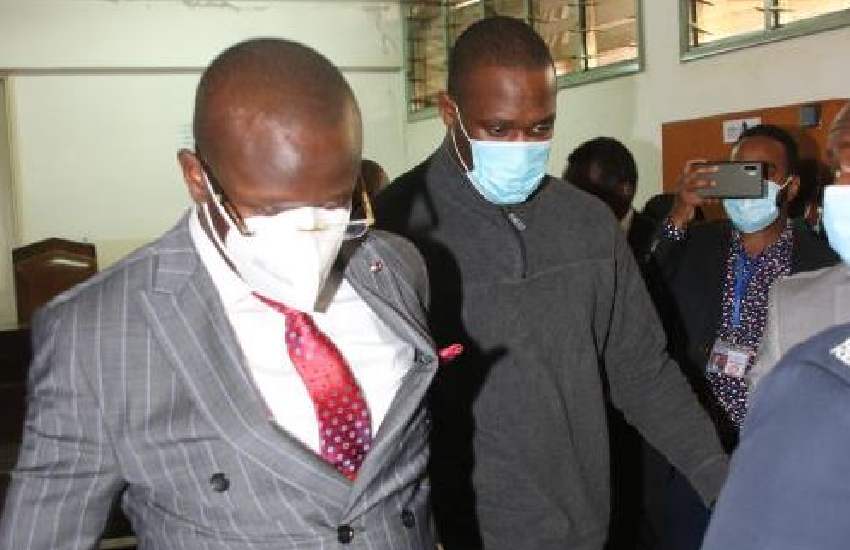 A businessman and his bodyguard will spend 12 more days in custody to allow the police conclude investigations into the murder of Kelvin Omwenga. Kibera Law Courts Principal Magistrate Derrick Kuto ruled that the prosecution had supplied sufficient reasons to warrant continued detention of the two key suspects in the murder of Omwenga on Friday last week at Galana Suites in Kilimani, Nairobi County.
Read Also: Businessman Kevin Omwenga killed in gold deal turned sour?
"After considering the application and the rival arguments, the court is convinced that it is necessary to continue detaining the suspects to allow the police to conclude investigations as their release could interfere with the ongoing investigations," Kuto ruled.
The prosecution, in their application asking for more days, stated that the special crime unit investigating the murder is yet to record statements from key witnesses, take fingerprints and take the two for DNA sampling.
Lead investigating officer Bashir Boya in his affidavit swore that releasing the suspects at this stage will interfere with investigations and scare away potential witnesses. "We are yet to take them for mental assessment and take the firearm used in the murder for ballistic examination. We also want time to retrieve CCTV footage from the scene of crime," Boya said.
Read Also: Autopsy shows Kevin Omwenga was shot in the heart from a higher place
Preliminary investigations had established that Ouko accompanied Omwenga to his place of residence to have dinner on the Friday evening after which they proceeded to the bedroom but a loud sound similar to a gunshot was heard a few minutes later. Ouko Sunday recorded a statement denying the murder, saying it was an accident.