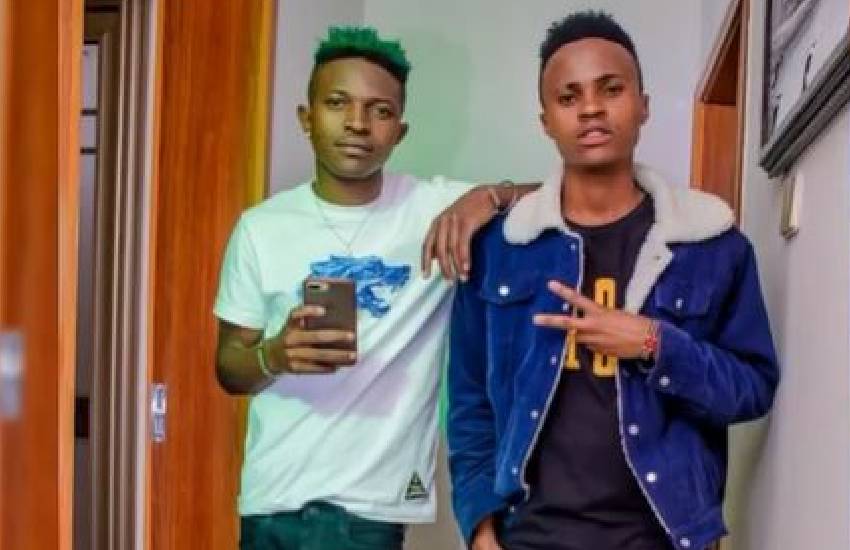 Popular Kenyan gospel singer Moses Omondi better known as Mr Seed has claimed that he has been receiving threats after announcing his upcoming music collaboration with former Eastlands Most Beloved (EMB) signee, Peter Mwanyalo alias Peter Blessing.
Read Also: I forgive Bahati - Peter Blessing after spending the weekend in jail
Sharing the ordeal on social media, Mr Seed revealed that he has had to endure insults from people whom he said have vowed to stall his project with Blessing. "So I was supposed to release our new project with Peter Blessing.... but I've been getting threats that if I go ahead and upload our song, they would flag it on YouTube because of Peter," he said.
The Happy Day crooner disclosed that he has archived proof of the threats and added that all he wanted to do was to give Blessing a push to do God's work. Confused, the father of one asked his fans to help him figure a way forward.
"I have screenshots of the texts where they were insulting me and trying me to feel less which does not sit well with me. But I'm not the type of guy who delights in kiki that's why I chose to keep my calm and not make the matter public. So guys what can you advise me to do? Because I am just doing God's work and supporting this guy. He is really trying his best, I thought I should come in and give him a push so that he can even help his parents but anytime he does something for himself, it ends up being discredited, it's not fair. Now what do we do?" he continued.
Read Also: Weezdom cries as he denies he was paid to publicise Mr Seed's sex scandal
Netizens were overly pleased with Mr Seed for taking Blessing under his wings and offering to nurture him despite the setback. Buoyed by the positive response, the singer posted a picture in the company of the young singer with the caption, "Due to public demand," signalling that the collaboration was a go.
Here are some of the comments from the post:
"Kazi nzuri my favourite boy Mr seed. Uyo kijana mfunze kunyenyekea na awe na subira, then mziki," stated @ Felloh7. "Hey am so happy to see this gosh am overwhelmed can't even explain @mrseedofficial and @peter.blessingske," added @Shiks_mbombo_1238.While @Princemudogo noted, "Mpe kamba kijanaa asizame."
@Iam_misspowers: "Waited for a long time finally." So did @Lovenexmakau who wrote, "What's done in dark one day it will come out in daylight, it's about time." "Manzeee missed my young lad baaana shukran sana @mrseedofficial," pointed out @Shengspear_ke. A message echoed by @karimualex and @Bonniemkenya2020, "God bless you bro." "Take him to the level best."
Read Also: How Bahati pulled me out of security guard job at 3 am - Peter Blessing
Peter Blessing has been missing from the music scene after his major fall out with his former EMB boss, Kevin Bahati.