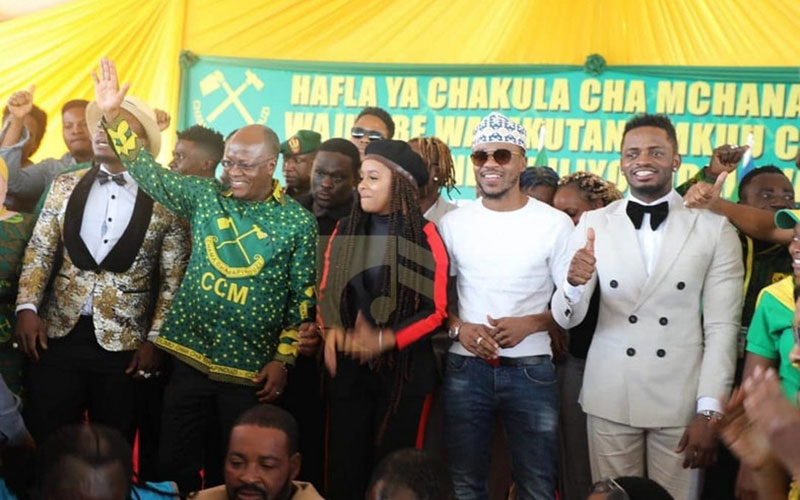 Tanzanian President John Pombe Magufuli was delighted after Bongo rivals Diamond Platnumz and Ali Kiba put their differences behind and portrayed a united front during a special lunch organized by the ruling party Chama Cha Mapinduzi (CCM) at statehouse over the weekend.
During the lunch, Magufuli made sure that the three (Alikiba, Harmonize and Diamond) shared a table in a quest to iron out their difference in the music industry. The president praised them saying that it makes him so happy to see Ali Kiba sitting next to Diamond Platnumz.
"It makes me so happy to see Ali Kiba sitting next to Diamond Platnumz. It shows you how powerful our political party is. When you see Harmonize praising Diamond in public despite their differences, this the kind of patriotism I want," Magufuli said.
READ ALSO: Unikome- Ali Kiba threatens to expose Diamond Platnumz
The president also congratulated Harmonize for praising Diamond after going through a bitter fallout. In a video clip from the event that has since gone viral, the three musicians were seen smiling as they listened to their leader laud them with so much pride. Harmonize also used his performance to thank Diamond and his WCB Management for being instrumental in shaping the person he is today.
READ ALSO: Four differences between Ali Kiba and Diamond Platnumz
"I am called Harmonize but before, I was Rajab Abdul Kahali. I am an artist struggled for so many days but I thank my brother Diamond Platnumz for holding my hand, showing me the way and directing my steps," said Harmonize. The Konde Music Worldwide CEO thanked Diamond's WCB and recognized the label as his parent in the music industry.
"I truly thank him (Diamond) and the leadership at WCB who are like my parents. I will also guide fellow youth in the industry. So, with all due respect, I wish to present to you the person I am currently mentoring. We are all from less privileged families and we help each other," he said before introducing his signee, Ibraah.